In the trial of Chiygoz secret witness was frankly confused in his testimony
A+
A-
Щоб отримувати корисні матеріали, підпишіться на розсилку
Підписатися
Today, during yet another court hearing of the "February 26 case" in the Supreme Court of the occupied Crimea another secret witness was questioned. During interrogation the witness made some obvious mistakes and had to change earlier testimony.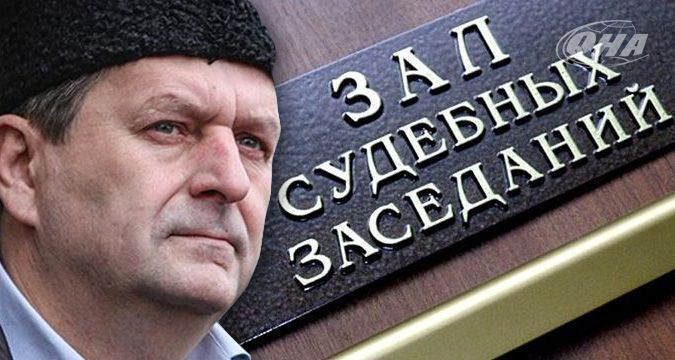 As reported by the correspondent of the Human Rights Information Centre.
According to him, initially witness said that he was near the Crimean parliament from 10 am to 11 am, while the main riots began much later. Later, he told the court that he left the place after 3 pm.
Further in his testimony secret witness stated that he saw Ahtem Chiygoz, who is accused of organizing mass riots by the occupational authorities, among the protesters and said that he saw him giving some orders to people and then conflicts began in various places. However, when the witness was asked to describe how the defendant was dressed, witness said that Chiygoz had a gray astrakhan hat on the head. A minute later he corrected himself and said that the hat was not astrakhan, but knit.
Also, uncertainty arose regarding the statement of the witness that before the riot Chiygoz's car stood near the Mejlis building for a few days. Secret witness could not explain how he knew the defendant's car, since earlier he stated that he was not previously familiar with him.
It is noteworthy that all lawyer's attempts to obtain detailed response for doubtful or contradictory testimonies were suppressed by the court on the pretext that such answers might reveal the identity of witness. As a result, defense announced the challenge of the whole composition of court for a clear interest in the outcome of the case, but the board has traditionally rejected the withdrawal. Interrogation of a secret witness is scheduled to continue on Monday, February 13.
As a reminder, Ahtem Chiygoz was detained in January 2015 for participating in a rally in support of the territorial integrity of Ukraine in front of the Crimean parliament on February 26, 2014. Then protestors opposed the pro-Russian activists, including those from the Russian Unity. Russian de facto authorities of the annexed Crimea accused Chiygoz of organizing mass riots.
On December 22, the Supreme Court of the Crimea dismissed the complaint made by lawyer Mykola Polozov on the decision of court to extend the term of arrest of Ahtem Chiygoz, Deputy Chairman of the Mejlis of the Crimean Tatar People, until April 8, 2015.
As reported by lawyer Oleksandr Lisovuy, circumstances have changed since his arrest – about 200 people were questioned in the court and only 3 or 4 of which indicated that they have seen Chiygoz, but neither of them testified about the illegal actions on his part.
Chiygoz himself stated that he is political prisoner and his arrest is dictated solely by the desire to frighten the Crimean Tatar people and is not justified by the rules of the Criminal Procedural Code.