Russian passports taken away from Crimean residents
A+
A-
Щоб отримувати корисні матеріали, підпишіться на розсилку
Підписатися
The Crimean authorities seize previously issued Russian passports from people without a residence permit in the occupied peninsula.
As the Kommersant Russian newspaper reports, the problem is common for the students, living in dorms, who appeal to the Federal Migration Service to replace a passport after reaching age of twenty years old. The officials seize their document, explaining that it was obtained illegally, since its owner had no permanent registration. As a result, the students face the threat of being expelled. The Federal Migration Service of Crimea reported to the newspaper that the students had been granted citizenship a year ago by mistake.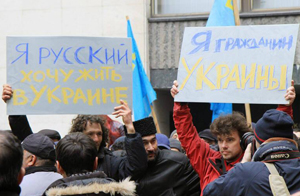 In particular, 20-year-old Yulia, a student of the Vernadsky Crimean Federal University, found herself in such a situation. She received a Russian passport last summer and drew up her insurance number of the individual ledger account, medical insurance and passport for travelling abroad. When she came to the Federal Migration Service department this year to replace the documents on reaching the age of 20, according to the requirements of the Russian legislation, the officers seized her passport and refused to return it.
Previously, the Federal Migration Service said that the absence of a stamp in the passport did not give reason to believe that a person is not a resident of the peninsula. The officials claimed that the fact of residence in Crimea at the time of the referendum could be confirmed by any official documents of the kind of employment contract or certificate of residence. Indeed, the residents, who had not had a residence permit at the time of the referendum, were issued Russian passports without any problems.