Almost 16% of respondents across Ukraine said they had witnessed Russian war crimes
A+
A-
Щоб отримувати корисні матеріали, підпишіться на розсилку
Підписатися
Almost 16% of Ukrainians across the country said they had witnessed Russian war crimes.
These are the findings of a study conducted by the International Center for Ukrainian Victory (ICUV) in cooperation with the Ilko Kucheriv Democratic Initiatives Foundation and the Center for Political Sociology.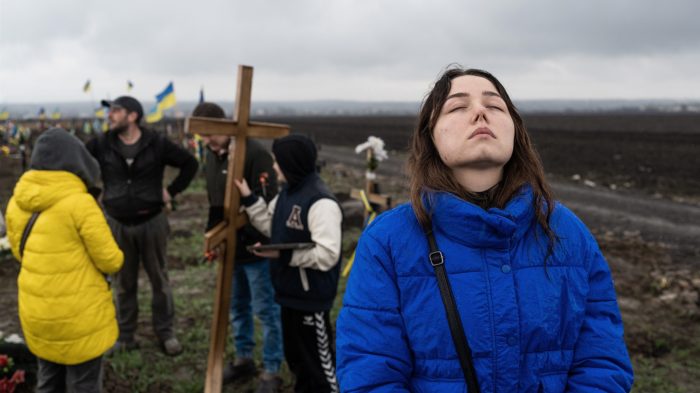 The sociologists interviewed 2001 respondents aged 18 and older, and the sample reflects the demographic structure of the adult population of the territories covered by the survey as of the beginning of 2022.
In addition to the 16% of respondents who witnessed war crimes committed by Russians, another 5% said they may have seen such actions. Ukrainian law enforcement has already registered over one hundred thousand crimes committed by the Russian military during the full-scale invasion of Ukraine.
The poll shows that one of the key factors of victory, according to respondents, is the prosecution of Russian war criminals (51%). Other factors include:
return of all Ukrainian hostages and deportees (60%);
liberation of the territories from the enemy (70%).
The vast majority of Ukrainians (53%) are ready to agree to continue the war if it is a condition for victory, and the majority of Ukrainians (68%) associate victory with the complete defeat of Russia, which would lead either to the liberation of all occupied territories (43%) or the collapse of Russia (26%).
For more than half of the respondents (51%), the only possible scenario is a war to the final victory without compromises or concessions.
"Although Ukrainians are sensitive to the growing number of casualties, the majority is ready for one or another unfavorable scenario, ready to continue the war, and not to agree to peace talks with Russia," sociologists comment on the study results.
More than three-quarters of Ukrainians (77%) are confident in Ukraine's victory, and 16% rather believe in victory. Support for the so-called "peace at any cost" is only 6%.
Most Ukrainians (78%) believe that all Russians are responsible for the aggression against Ukraine.
Earlier, ZMINA reported that almost 20% of Ukrainians surveyed have close relatives with whom they have lost contact and do not know where they are now due to Russia's ongoing war against Ukraine. Almost 80% of Ukrainians have relatives or friends wounded or killed due to Russia's war.