Energy blockade activists not allow restoring electricity supply to annexed Crimea
A+
A-
Щоб отримувати корисні матеріали, підпишіться на розсилку
Підписатися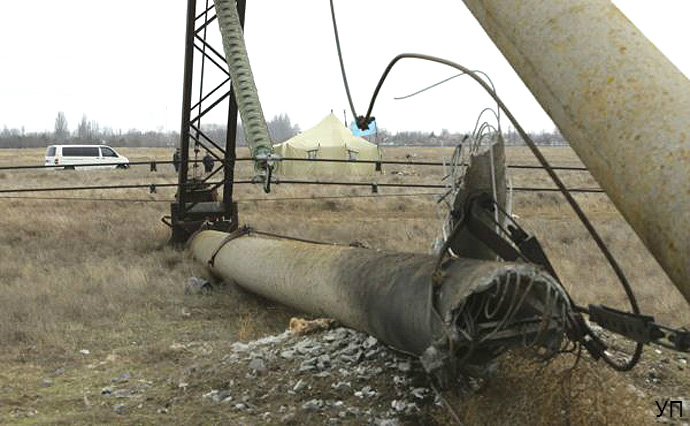 The activists of the energy blockade of Crimea did not allow the Ukrenergo state-run energy company specialists to restore electricity supply to Crimea through the Kakhovska-Titan power line.
This is reported by the Ukrayinska Pravda (Ukrainian Truth) online newspaper, citing the press office of the Right Sector party.
The workers of the Ukrenergo together with the representatives of the Interior Ministry and the Security Service of Ukraine tried to launch the electricity supply pursuant to the agreements with the part of the organizers of the Crimea blockade.
"Three operational groups of the Right Sector, guided by the commander of the 2nd reserve battalion of the Right Sector together with the activists of "Aidar Veterans" and "Aidar" organizations, prevented the criminal actions and did not allow restoring power supply to the occupied territory. The Right Sector fighters, like many other blockade activists, were surprised at the consent of the Mejlis representatives to restore the electricity supply to the occupied Crimea," the Right Sector representatives inform.
As the Right Sector states, they do not understand the position of both the authorities and the blockade organizers on the "economic cooperation and trade with the enemy."
The Right Sector describes this as the betrayal of national interests and threatens to terminate its participation in the blockade of Crimea if the supplies to the peninsula are restored.
"We reserve the right to exercise control in another format and to prevent the supply of goods and resources to the occupied territories," the Right Sector activists claim.
As reported, November 22, the electricity supplies from the mainland Ukraine to the occupied peninsula were stopped after the pylons had been blown up in Kherson region. The state of emergency was declared in Crimea.
As reported, leader of the Mejlis Refat Chubarov said that Crimea could independently provide people with electricity amidst the energy blockade.