Simferopol Detention Center has inhumane conditions of detention, 10 people died in a year – human rights defenders
A+
A-
Щоб отримувати корисні матеріали, підпишіться на розсилку
Підписатися
Inhumane conditions of detentions were created in the Simferopol Detention Center, where Crimean Tatar political prisoners are being kept. At least 10 people have died in a year in the detention center due to withhold of medical treatment.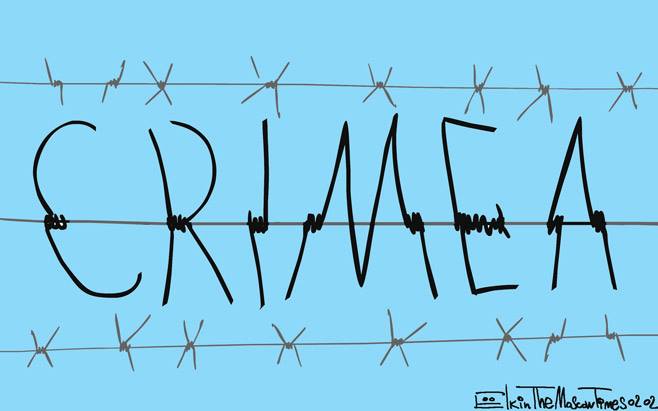 As reported by Munira Abduraimova the mother of Emir-Useyin Kuku, Crimean Tatar human rights defenders and one of the defendants in the "Hizb ut-Tahrir" case.
"The detained as well as my son Emir-Useyin Kuku are being kept in terrible conditions in the Simferopol Detention Center. The ward is small, 6 people are kept in it and they sleep in turns. The sick, in particular my son, are not been given the access to medical assistance, resulting in no less than 10 deaths in the year", – said Munira Abdraimova.
The lawyer Emil Kurbedinov has reported the same facts in the comment to the Human Rights Information Centre.
According to him, detainees in the detention center can only eat food brought by relatives, since it is impossible to eat food from the detention center.
"Guys said that there are wool and leather in the soup. And if it is porridge it is prepared with oil that you just can't digest it. And bread is half-raw", – said Kurbedinov.
He added that detainees are suffering from parasites.
"And, of course, it is flees and bedbugs. Emir-Useyin Kuku has a terrible itch from them. When he was in the psychiatric hospital he was kept in a separate room due to this", – said the lawyer.
He also noted that all defendants in the case are receiving terrible medical assistance. There are no medicaments. In the medical unit stated: "We are not receiving medicaments from Moscow that are available there". They have "Validol" and "Panadol". They are using "Validol" and "Panadol" to cure all ills.
Kurbedinov reported that other detainees had to perform a surgery on Arsen Dzhepparov.
"They wouldn't start treating him until the detainees themselves cut the furuncle out. He was brought to the hospital when he already was in a terrible shape. He underwent surgery and under anesthesia was "thrown" back into the ward. They wouldn't even let him recover from anesthesia in the hospital. He was recovering from anesthesia in the ward", – said Kurbedinov.
According to him, all these facts are being documented by the Crimean defenders. And after the imposition of sentence lawsuits about these violations will be submitted to the European Court of Human Rights.
As a reminder, on May 12 in Bakhchisarai, the Russian security forces conducted a series of searches in the homes of Muslims, as well as at a local cafe. As a result, four Bahchisarai residents, Zevri Abseitov, Remzi Memetov, Rustem Abeltarov and Enver Mamutov were detained and accused of terrorism and involvement in the organization "Hizb ut-Tahrir", which is recognized as terrorist in the Russian Federation.
Representatives of the International Islamic political organization "Hizb ut-Tahir" called its mission to unite all Muslim countries into an Islamic caliphate. However they reject all kinds of terroristic methods to achieve their goals and believe their organization to be unfairly subjected to persecution in Russia.
Russia's Supreme Court banned "Hizb ut-Tahir" in 2003 and included it in the list of terrorist organizations.
It was earlier reported that defendants in the "Hizb ut-Tahrir" case are abused during the transportation to the court.