Gafarov-Shyring list: how Russia is killing political prisoners in Crimea
A+
A-
Щоб отримувати корисні матеріали, підпишіться на розсилку
Підписатися
Amet Suleymanov, a Crimean Tatar and a civic journalist and streamer of the Crimean Solidarity is 38 years old. He is a defendant in the third Bakhchysarai case of Hizb ut-Tahrir, a political party banned in Russia. Under the pretext of participating in it, Russians fabricate cases against Crimean Tatars who did not accept the peninsula's occupation and are trying to fight the regime.
On October 29, 2021, a few days after Amet's birthday, the Southern District Military Court of Rostov-on-Don sentenced him to 12 years in a maximum security prison.
Together with him, Seytumer Seytumerov, Osman Seytumerov, and Rustem Seitmemetov were sentenced to long terms of imprisonment between 13 to 17 years.
Suleymanov was the only one of the defendants who was under house arrest during the investigation and trial due to his health condition. He suffers from arterial and mitral insufficiency, and his doctors recommended replacing his heart valve. The man needs constant medical care.
On April 5, 2023, Russian security forces took Amet from his home to serve his sentence in prison as the verdict came into force. His family is convinced his imprisonment could be a death sentence for him.
Amet's disease is included in the government's list of illnesses that prevent detention. But this is not an argument for the occupiers.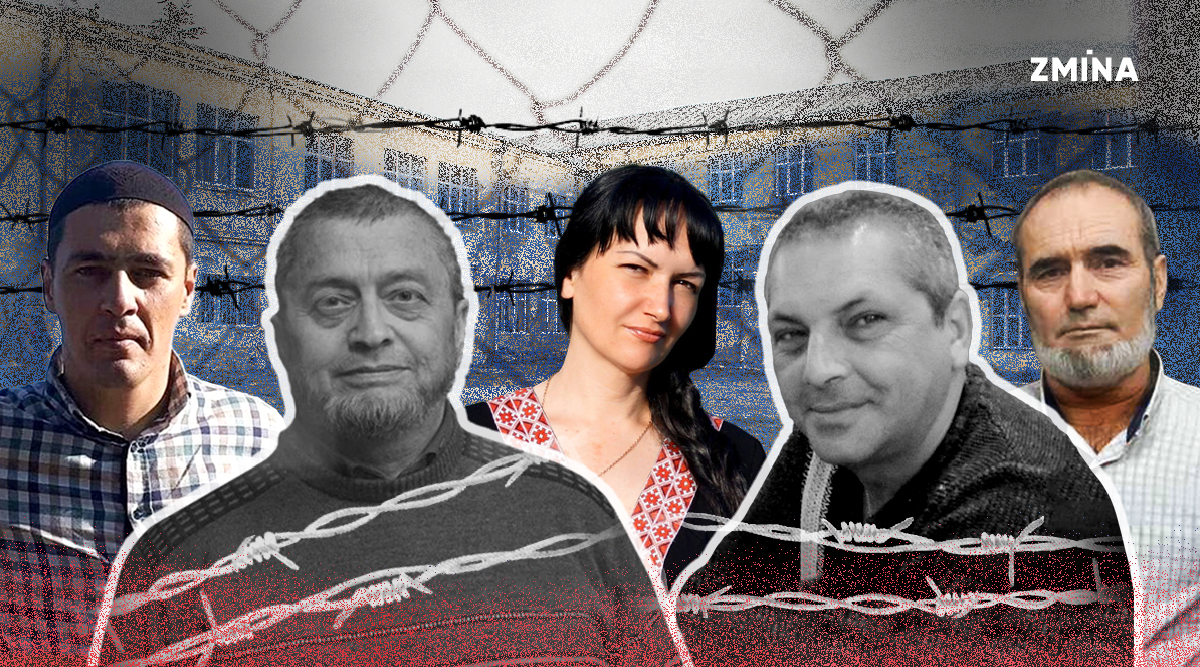 Failure to provide medical care to political prisoners is a systemic phenomenon
The situation with Amet Suleymanov is typical for political prisoners in Crimea.
For example, in July last year, the Southern District Military Court of Rostov-on-Don sentenced a 59-year-old Crimean Tatar activist, Azamat Eyupov, to 17 years in a maximum security prison. He was found guilty of "terrorism" for alleged involvement in Hizb ut-Tahrir based on fabricated evidence. The defense and the family are convinced that the Russians are punishing Eyupov for his civic position.
Even before his arrest, Eyupov was diagnosed with atherosclerotic heart disease. Because of this, he has complications with blood supply and a tendency to form blood clots with a subsequent increased risk of heart attack or stroke.
The man suffered an ischemic stroke four times during his stay in the detention center.
Russian occupying forces detained a civic journalist and a human rights activist, Iryna Danylovych, on her way from Koktebel to Feodosia on April 29, 2022. She was charged with alleged "working with explosives."
On December 28 of the same year, the occupation "court" in Feodosia of the occupied Crimea sentenced Danylovych to 7 years in prison on charges of illegally possessing and manufacturing explosives. She pleaded not guilty.
In detention, Iryna's health began to deteriorate rapidly: she lost consciousness and had an ear infection, which put her at risk of losing her hearing.
On March 22, 2023, Danilovich went on a dry hunger strike. The reason for this was the lack of treatment and medical care in the Simferopol Detention Center. On April 6, the civic journalist ended her hunger strike, as she was allowed to meet with a lawyer and promised to be treated. The occupiers did not fulfill their promise.
In early February 2023, Crimean Tatar activist Dzhemil Gafarov died in the Novocherkassk Detention Center in the Rostov Region of Russia. He was 60 years old. The man was also convicted on charges of involvement in the activities of Hizb ut-Tahrir.
Before his illegal detention in 2017, Gafarov suffered a myocardial infarction, and soon after, he was diagnosed with chronic kidney failure with impaired kidney filtration. In November 2022, Gafarov suffered a heart attack. According to him, the detention center administration denied him medical care. His lawyers have repeatedly stated that his detention is dangerous for his life.
Dzhemil Gafarov was to be transferred to one of the Russian colonies. He was distraught whether he would survive the transfer, but he did not even live to see it.
During his imprisonment, the man's health deteriorated: he moved from the third disability group to the second. His lawyer is now seeking to open criminal proceedings against the staff of the detention center in the Rostov region.
Also, in early February this year, 61-year-old Ukrainian Kostiantyn Shyring died in colony No. 5 in Novotroitsk, Orenburg region of Russia. He was serving an illegal 12-year sentence on charges of "espionage."
The man needed heart surgery and repeatedly sought medical care but never received it.
Kostiantyn Shyring arrived at the colony in the Orenburg region of Russia on June 1, 2022. His transfer lasted more than two months. According to the man, the problematic conditions affected his health, which no one cared about. He told the defense that all his medications and blood pressure monitor were taken away from him.
At risk of not being released
Tetyana Pechonchyk, Chairwoman of the Board of the ZMINA Human Rights Center, emphasized that repressions against Ukrainian prisoners in Crimea have significantly intensified over the past year and a half since the beginning of Russia's full-scale invasion of Ukraine. According to her, at least 180 Crimean political prisoners are now known, most of them are Crimean Tatars.
Several dozen people have complex chronic illnesses or disabilities or are elderly. Many have been sentenced to long terms of imprisonment on bogus charges and lack of medical care. Therefore, they are at risk of not being released and dying.
Despite the need for urgent hospitalization, many prisoners in the occupied Crimea are denied it, and human rights activists said the necessary medical care is not provided to them in the Russian penitentiary system. Moreover, administrations of the places of detention do not respond to complaints from political prisoners about the lack of medical care.
"For many people, this can be a death sentence, and it is essential to draw public attention to the issue of releasing these people," says Tatiana.
Human rights activist Viktoria Nesterenko is convinced that the Russian occupation authorities are deliberately bringing Ukrainian political prisoners to death in prisons, violating human rights, including the right to life, health, and medical care:
"Denial of examination and proper treatment violates international humanitarian law. There is no doubt that such a policy of Russia in the treatment of political prisoners and the creation of such conditions in places of detention are aimed at additional pressure and, in fact, the murder of Ukrainians and Crimean Tatars."
The human rights activist emphasizes that the Russian authorities illegally detain such prisoners and deliberately fail to provide medical care, which can be considered torture. Since the illegal annexation of Crimea in 2014, Russia has never cared about the situation of political prisoners, which means that such actions against them are systematic. People die in prison, a gross violation of the Geneva Conventions.
According to Crimea SOS analyst Yevhen Yaroshenko, the trend of not providing medical care to Crimean political prisoners has remained the same as before February 24, 2022. But the scale of the problem has changed, as the number of political prisoners has increased significantly since then. Therefore, we can observe more cases every month when the necessary medical care is arbitrarily denied to political prisoners.
The human rights activist mentioned Iryna Danylovych, saying that due to her deteriorating health, she could not prepare for court hearings, which also affected the violation of her rights during the trial.
Another example is Oleksiy Kyseliov, a resident of the Kherson region, who was kidnapped and transported to Crimea by representatives of the Russian occupying forces last July. He was charged and convicted for allegedly participating in the Noman Chelebedzhikhan battalion.
He was subjected to horrific torture, but no medical care was provided, although his ribs were broken. The man went on a hunger strike to obtain minimal respect for his rights.
Access to independent lawyers is hampered
Independent lawyers are trying to help prisoners improve their detention conditions and access to medical services. But the situation with the defense of political prisoners is also complicated.
Yaroshenko reminded that since the beginning of Russia's full-scale invasion of Ukraine, three human rights lawyers had been deprived of their licenses in Russia. These are Nazim Sheikhmambetov, Lilya Gemedzhi, and Rustem Kamiliev.
"The existing independent lawyers will be under even greater pressure. Because the number of illegally imprisoned persons in need of qualified legal assistance is growing every month in Crimea," he explained.
You cannot count on the "defenders" provided by the Russian state. As a rule, they cooperate with the Federal Security Service in the investigation. Their function is to give the appearance of a fair trial, Yaroshenko says.
"Of course, people have a nominal opportunity to choose another lawyer, but there are cases when a person is tortured during detention and then provided with a state-appointed lawyer. And later, the prisoner is denied access to an independent lawyer because they have allegedly agreed with a 'defense lawyer' who was put forward by the investigation," he clarifies.
This happened to the well-known Radio Liberty journalist Vladyslav Yesypenko in March 2021.
Over time, replacing a state-appointed lawyer with an independent one is possible. Still, at the moment when independent lawyers are deprived of access to their clients, the human rights activist explained that there is an extremely high risk of torture and other forms of arbitrariness on the part of the occupation security forces.
Another thing that complicates the access of lawyers to political prisoners is physical obstruction. This situation is observed in the newly built pre-trial detention center No. 2 in Simferopol in the center of Crimea, which opened in October 2022. It is distinguished by the fact that prisoners there are in rigorous information and communication isolation, Yaroshenko said.
It is much more difficult for lawyers to get there.
From the first weeks after its opening, this pre-trial detention center began to be filled with Ukrainian citizens taken from the Kherson and Zaporizhzhia regions.
At one time, about 80% of the prisoners here were held without any legal status. They were not prisoners of war. They were not accused of a criminal offense. That is, they were held arbitrarily without any proper legal grounds. They were not allowed to see their lawyers and could not communicate with their families.
Another circumstance that complicates the access of independent lawyers is the fact that Crimean political prisoners are transferred to remote parts of the Russian Federation to serve their sentences: Yelets in the Lipetsk region, the notorious "Vladimir Central" in Vladimir, prisons in the Krasnoyarsk region or Chelyabinsk… The European part of Russia, but also remote: Bashkortostan, Mordovia.
The families of the prisoners are thousands of kilometers away, and it is costly and difficult for them to travel for visits. It is also expensive and time-consuming for lawyers to travel to such places.
Publicity, letters, outreach: how to help Crimean political prisoners
"The more information we have about political prisoners, the more likely it is that they will be treated more humanely, if not released," says Yaroshenko.
For example, Ukrainian Crimean Tatar politician, teacher, political scientist, and journalist Nariman Dzhelal was not being tortured. One of the reasons for this is that he participated in the Crimean Platform 2021. He is a well-known public figure and a member of the Mejlis. This saved him from physical torture, the Crimea SOS analyst believes.
At the same time, Asan and Aziz Akhtemov were tortured after their abduction.
Another example is the civic journalist Nariman Memedeminov, who spent two and a half years behind bars. After his release, he said he was saved from torture because his name was known in Ukrainian and international journalistic associations. Although Memedeminov's detention conditions, like most prisoners, were inadequate, to put it mildly, Yaroshenko says.
Among the tools of influence on Russia, the human rights activist names letters that can be written to political prisoners by famous foreigners, not only political figures, but also representatives of show business, cinema, culture, literature, and sports.
"Such a message can be a means of 'soft pressure' on Russia because if a famous person knows about a political prisoner and tries to communicate with him, it already increases his publicity," he believes.
For foreign diplomats accredited in the territory of Russia, it is advisable to attend court hearings if they take place, for example, in Rostov-on-Don, Moscow, etc. Their presence at court hearings can also be a kind of political pressure on Russia.
"Of course, the occupied Crimea is out of the question, as foreign diplomats accredited in Russia cannot operate there for obvious reasons," he reminded.
Another tool is individual sanctions against violators of human rights. These include illegal deprivation of liberty, torture, ill-treatment, denial of the right to a fair trial, and violation of the right to respect for private family life by refusing to allow visits with family or transfer to very remote places of detention.
These may be grounds for individual sanctions in those states whose legislation allows such restrictive measures. For example, the Magnitsky Act in the United States. Similar legislation or acts exist at the EU level and in individual EU member states: Lithuania, Latvia, and Estonia.
The following tool is criminal prosecution because what Russia does to Ukrainian citizens by illegally imprisoning, torturing, and practicing other arbitrary acts may fall under the definition of war crimes.
The legislation of many countries allows for universal jurisdiction over such crimes—for example, Germany, the Netherlands, France, Switzerland, Sweden, Finland, etc.
Tetyana Pechonchyk also emphasized the importance of publicizing information about political prisoners. In her opinion, it is essential to tell the stories of illegally imprisoned Ukrainian citizens, spread them on social media and abroad, put pressure on Russia, initiate new resolutions of the European Parliament, and raise issues at the level of the OSCE and UN bodies so that Ukrainian citizens, political prisoners at risk with complex diseases, are released first and unconditionally.
---
The article was written within the framework of the project "The List of Gafarov-Shyring: rescue of Crimean political prisoners who are under threat." The project is implemented with the financial support of the Ministry of Foreign Affairs of the Czech Republic as part of the Transition Promotion Program.
The views expressed in this material belong to the authors and do not reflect the official position of the Ministry of Foreign Affairs of the Czech Republic.