Ambulance arrived to activist Balukh in detention center
A+
A-
Щоб отримувати корисні матеріали, підпишіться на розсилку
Підписатися
On Wednesday in the annexed Crimea an ambulance was called to the Ukrainian activist Volodymyr Balukh.
Crimean Human Rights Group report that this was informed by his wife, Natalia Balukh.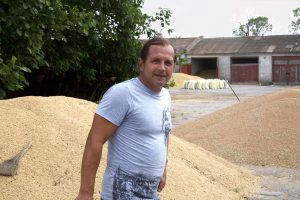 "Ukrainian is located on the territory of Crimea in Razdolnensky Temporary Detention Centre. According to his wife, doctor who examined Volodymyr did not make a diagnosis, did not give any documents which confirms his visit, but made a list of prescribed medicine that was later handed to his wife", – said in a statement.
It is stated that his wife bought the medicine and handed them over to the officer on duty of the detention center.
"Among the medicine prescribed by the doctor there is antibiotic, remedies for rhinitis, cough medicine and pills for intestinal disorder. It is unknown if Volodymyr received the medicine. Accurate diagnosis of the Ukrainian is also unknown", – reports the Crimean Human Rights Group.
His wife mentioned that she last saw Volodymyr at the court hearing on December 27.
"We were not allowed to talk. He looked sickly and lost some weight", – she said.
As a reminder, On December 8, 2016, FSB conducted a 4 hour search in the house of Ukrainian activist Volodymyr Balukh and his mother and "found" 90 rounds of ammunition and several TNT blocks in the attic of the Balukh's house. Searches were conducted before, each time during the searches they took down the Ukrainian flag from his roof and seized it. There is reason to believe that the FSB officers planted the ammunition during the search in order to falsification of a new criminal case against the activist.
On December 12 Razdolnensky District Court of Crimea under control of Russian authorities has chosen a measure of restraint for Balukh in the form of detention for a period of 30 days. The court disregarded the fact that the procedural documents were drafted with significant violations and that on the content of Volodymyr is his old mother, who is 73 years old.
On December 14 investigator in the presence of a lawyer charged the Ukrainian under the part 1 of Art. 222 of the Criminal Code. Crimean does not agree with accusations and does not plead guilty.
On December 26 Crimean Human Rights Group reported that Balukh suffers from chronic bronchitis, which intensified in the crowded jail cell.