Crimean court refuses to accept complaint of Akhtem Chiygoz about video conference
A+
A-
Щоб отримувати корисні матеріали, підпишіться на розсилку
Підписатися
The so-called Supreme Court of the occupied Crimea has refused to accept the complaint from the defence of arrested Deputy Chairman of the Mejlis of the Crimean Tatar People Akhtem Chiygoz about the ruling on participation of the defendant in the court hearing via video conference.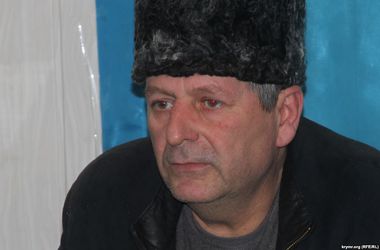 This was stated by Chiygoz's lawyer Nikolai Polozov, Crimea.Realities portal reports.
"The court has illegally rejected the complaint of the defence about the video conference. We will lodge a cassational appeal against this decision," Polozov posted on social networks.
According to the lawyer, the judges said that nobody prevented the public access to the trial of Chiygoz and refused to uphold his motion. The ruling on rejection of complaint was issued before the court hearing on August 2.
"They are very afraid of Chiygoz in the courtroom," Polozov commented on the court ruling.
August 2, the Russian-controlled Supreme Court of Crimea located in the city of Simferopol has started to consider "the case of February 26" on the merits regarding one of its defendants – Akhtem Chiygoz. The court ruled to hold the hearing via video conference, but a two-hour break was declared because of frequent communication interruptions.
As reported, Russian government applied a discriminatory provision in the case of Akhtem Chiygoz. The new provision of Russian legislation provides for remote participation of a defendant in the trial of the first instance.
As a reminder, after the Crimean peninsula had been annexed by Russia, the Crimean Tatar activists started to be tried for participation in the rally on February 26, 2014 in support of the territorial integrity of Ukraine.
Russia's "Memorial" human rights centre recognized defendants in the "case of February 26" now held in custody, Akhtem Chiygoz, Ali Asanov, and Mustafa Degermendzhi, as political prisoners.