Political prisoner Rustem Seytmemetov's health deteriorates
A+
A-
Щоб отримувати корисні матеріали, підпишіться на розсилку
Підписатися
Political prisoner Rustem Seytmemetov's eyesight has fallen, his blood pressure is constantly jumping, and his legs swell due to the hot weather – because of this, he has to take medication all the time.
This update was reported by Crimean Solidarity, a prominent human rights initiative that focused on the rights of Crimean Tatars and political prisoners, citing information from Rustem's wife, Zera Seytmemetova.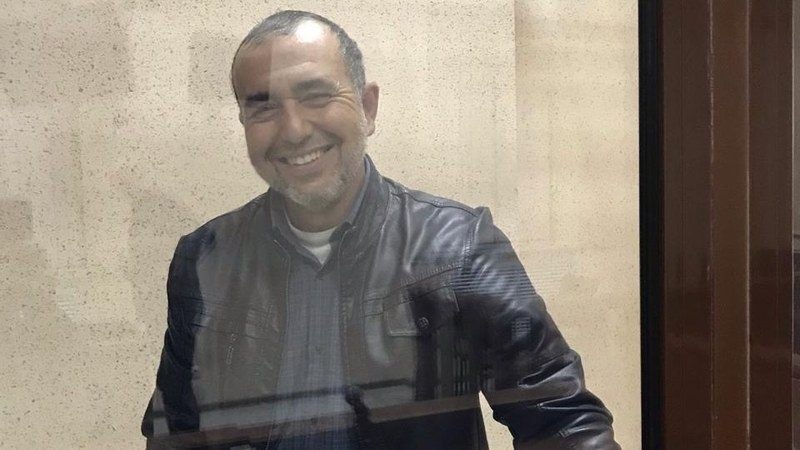 Zera and Rustem Seytmemetov's daughters came to see him in prison No. 1 in Dimitrovgrad, Ulyanovsk region, Russia. The youngest daughter, Beyan, has not seen her father since his arrest in 2020 when she was two and a half years old. Now the girl is six.
Zera said that the man looked good at first glance, and he went for a walk and played sports. However, at the meeting, he complained that his eyesight had fallen, his blood pressure was constantly jumping, and his legs were swelling because of the hot weather. Therefore, he has to take medication all the time.
Rustem also has problems with his spine, which, according to his wife, bothered him while he was still free.
The political prisoner sent his greetings to his compatriots and thanked everyone for their support, and when it came time to leave his family, he asked his family not to cry.
Rustem Seytmemetov is a defendant in the case of the so-called 'third Bakhchisarai group of Hizb ut-Tahrir.' He was detained on March 11, 2020, in Bakhchisarai, Crimea. On that day, Federal Security Service officers searched Crimean Tatars' homes and detained Rustem's nephews, Osman and Seytumer Seytumerov.
At the same time, the elderly Enver Mustafayev was released by the Russian security forces after being interviewed as a witness.
On October 29, 2021, the Southern District Military Court in Rostov-on-Don, Russia, issued a verdict against the defendants, charging them under Article 205.5 of the Russian Criminal Code – "Organization and participation in the activities of a terrorist organization."
Four Crimean residents, Seytumer Seytumerov, Osman Seytumerov, Rustem Seytmemetov, and Amet Suleymanov, were sentenced to 17, 14, 13, and 12 years in prison in a strict regime colony, respectively.
At the same time, the defendants' lawyers note that the case file contains no evidence that they were carrying weapons, explosives, or ammunition, planned to commit a terrorist attack, or called on others to do so.
All four convicts were recognized as political prisoners by human rights defenders.
According to Crimean Solidarity activists, the organization's members are being persecuted for their active civic position, public actions against political repression in Crimea, criticism of the Russian authorities, and mass disloyalty among Crimean Tatars to the occupiers.
Earlier, ZMINA reported on the Gafarov-Shyring list – a list of political prisoners from Crimea who require urgent medical assistance currently denied by the Russian occupation authorities. 
According to the Mission of the President of Ukraine in the Autonomous Republic of Crimea, at least 181 individuals are held in custody or imprisoned on the territory of the temporarily occupied Crimea or Russia.  
Based on assessments of a human rights organization, Crimea SOS, 35% of political prisoners from Crimea charged with politically motivated grounds became imprisoned after Russia's full-scale invasion. Most were accused of alleged involvement in the Islamic political organization Hizb ut-Tahrir or the volunteer Crimean Tatar battalion named after Noman Çelebicihan.
In April 2023, Dunja Mijatović, the Council of Europe Commissioner for Human Rights, released a report, "Crimean Tatars' struggle for human rights." Mijatović confirmed numerous serious human rights violations, persecution, discrimination, and stigmatization by Russian occupying forces of representatives of the Crimean Tatars community and those who oppose the illegal occupation of Crimea or disagree with other issues.