Crimean activist Chiygoz did not hear victims participating in trial via videoconference
A+
A-
Щоб отримувати корисні матеріали, підпишіться на розсилку
Підписатися
The hearing of the Kremlin-controlled Supreme Court of the annexed Crimea in "Chiygoz case" lasted over two hours on Wednesday, September 7. Akhtem Chiygoz, whom Russian authorities accused of plotting mass unrest on February 26, 2014, said he could not hear one of the victims via videoconference.
Nikolai Polozov, the Russian lawyer of Chiygoz, said this in a commentary to Crimea.Realities portal.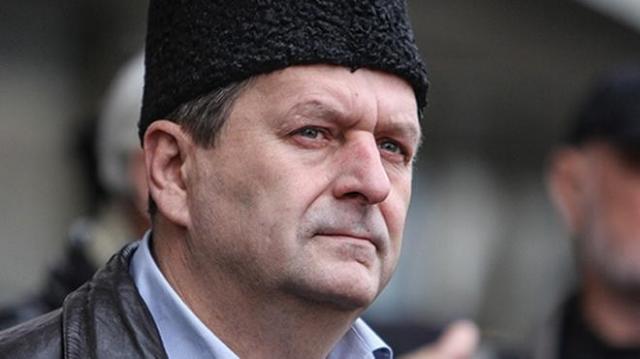 According to him, the second victim was not interrogated because he has significant speech defects.
"Since Akhtem Chiygoz participates in the court hearing via videoconference [as was earlier ordered by the court], it was difficult to understand the victim, and the court postponed the questioning," the lawyer said, adding that the lawyers' motion on the need for the presence of Akhtem Chiygoz in the courtroom was again rejected.
As Polozov noted, another victim said at the hearing that he had not seen the defendant before, so no new data on the events of February 26, 2014 had been provided.
"During his interrogation it was revealed that the investigator arbitrarily changed testimony, the victim insisted on the testimony he gave in court. This fact was established," the lawyer said.
The next hearing is scheduled for the morning of September 8.
As reported, Deputy Chairman of the Mejlis of the Crimean Tatar people Akhtem Chiygoz was arrested in January 2015 for participating in the rally in support of the territorial integrity of Ukraine in front of the Supreme Council of Crimea on February 26, 2014. Then the protesters were opposed by the pro-Russian activists. Russian de facto authorities in Crimea accuse Chiygoz of organizing mass unrest.