A letter from unfreedom. Read a message from Bogdan Ziza, an artist and a Crimean political prisoner
A+
A-
Щоб отримувати корисні матеріали, підпишіться на розсилку
Підписатися
The artist and Kremlin political prisoner Bogdan Ziza received 15 years of imprisonment by a Russian court for splashing a door of the municipality with blue and yellow paint in Yevpatoria, a city in the Western part of occupied Crimea. On June 10, he began a hunger strike.
ZMINA received a letter from Bogdan Ziza in which he explains why he started the hunger strike and appeals to all those who support him around the world.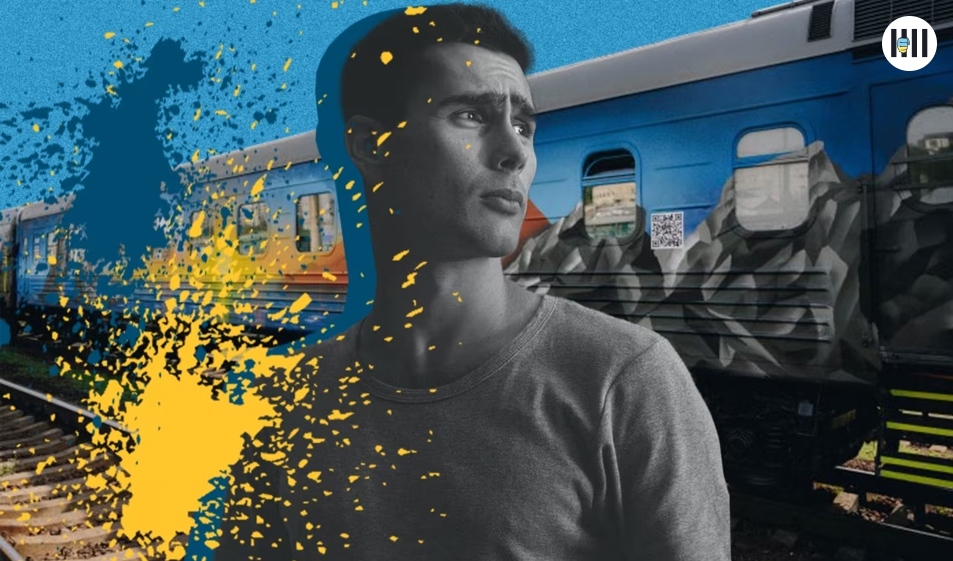 Dear all!
Let me start with the most important part – I feel fine. Just have a headache and feel increased weakness day after day. 
Overall, my body reacts calmly, since I prepared it for this step. The conditions of my imprisonment are not great, but I will share about it next time. 
I sleep a lot, and at last, I read more because what else is there to do in a cell without a TV or radio? Well, I am glad there is silence; I missed it all this time. 
I have to argue with the prison guard every day to get a chance to go for a short walk. Sometimes, I get a chance to stay under the warm sunlight, which, unfortunately, does not reach my cell. I hate the long stairs on my way from my cell to the prison yard for a walk since it became hard for me to pass them.
Every person, even the laziest, tries to prove that my hunger strike is useless and that no one cares. They try to convince me to stop it. Despite everything, I tirelessly explain to them that it is still vital. Anyway, regardless of the result, it will be rewarding. 
I completely realize that my demands are unrealistic at the moment, but my goal is different. The most important task is to draw attention to the issue of political prisoners. It is hard for me to sit and wait that it will resolve by itself, that it will be addressed by someone else for me, for us. I want to do something and try my best. 
I do not know how far I will get, but I will not stop until I am heard by those in a position of power to deal with this issue, to help. Only then will I acknowledge that I have done everything I could. 
News I receive from the Simferopol pre-trial detention center No. 2 is horrible. I appeal to the public to pay attention, not be silent and spread the word. It will be helpful! During the nine months I spent in the Simferopol pre-trial detention center No.1 in Crimea, I witnessed how the publicity about the cruel treatment of prisoners of war helped them improve their conditions. It does work! 
I hug everyone concerned about me and the fate of other prisoners. I am grateful for your support! Together we will win! 
***
On June 6, the military court in Russian Rostov-on-Don sentenced Crimean artist and activist Bohdan Ziza, who last year in occupied Yevpatoria splashed the doors of the municipality with yellow and blue paint, to 15 years in prison on June 6. Ziza was detained on May 16, 2022, but nothing was known about his whereabouts for several days.
In his public statement during the trial, he emphasized that he "acted in good faith" and characterized his actions as "a cry of the soul and conscience to those who, like me, was afraid, but also did not want and do not wants this war."
According to human rights defenders, Russian occupying forces hold over 100 abducted Ukrainians, primarily civilians from the Kherson and Zaporizhzhia regions of Ukraine, in the temporarily occupied Crimea. Civilian hostages are allegedly kept in the pre-trial detention center No.2 in Simferopol, the center of the Crimean peninsula. 
In response to the imprisonment of Bogdan Ziza, several prominent Ukrainian human rights organizations published a statement. In particular, they called on the international community to maximize the use of the International Crimea Platform, the procedures of the UN, Council of Europe, OSCE, and other international organizations aimed at speeding up the release of the Crimean political prisoners, civilian hostages in the occupied territories, responding effectively to human rights violations in the occupied Crimea, and promoting the de-occupation of all territories of Ukraine.
According to the Mission of the President of Ukraine in the Autonomous Republic of Crimea, at least 181 individuals are held in custody or imprisoned on the territory of the temporarily occupied Crimea or Russia.  
Based on assessments of a human rights organization Crimea SOS, 35% of political prisoners from Crimea charged with politically motivated grounds became imprisoned after Russia's full-scale invasion. Most of them are people who were accused of alleged involvement in the Islamic political organization Hizb ut-Tahrir or the volunteer Crimean Tatar battalion named after Noman Çelebicihan.