'Chingis' was scrapping my skull with knife, admiring all the cracking there' – report
A+
A-
Щоб отримувати корисні матеріали, підпишіться на розсилку
Підписатися
The illegal armed groups' actions are aimed at causing maximum physical harm to POWs. They do not adhere to the fundamental principles of respect for life, health, honor, and dignity.
This is said in the report "Total impunity in the ATO area: Investigation into illegal detentions and slave labor" of the Ukrainian Helsinki Human Rights Union.
In most cases, physical abuse was used against the captives. They could be beaten with hands, feet, buttstocks, hammers, sticks, metal pipes — any objects within reach.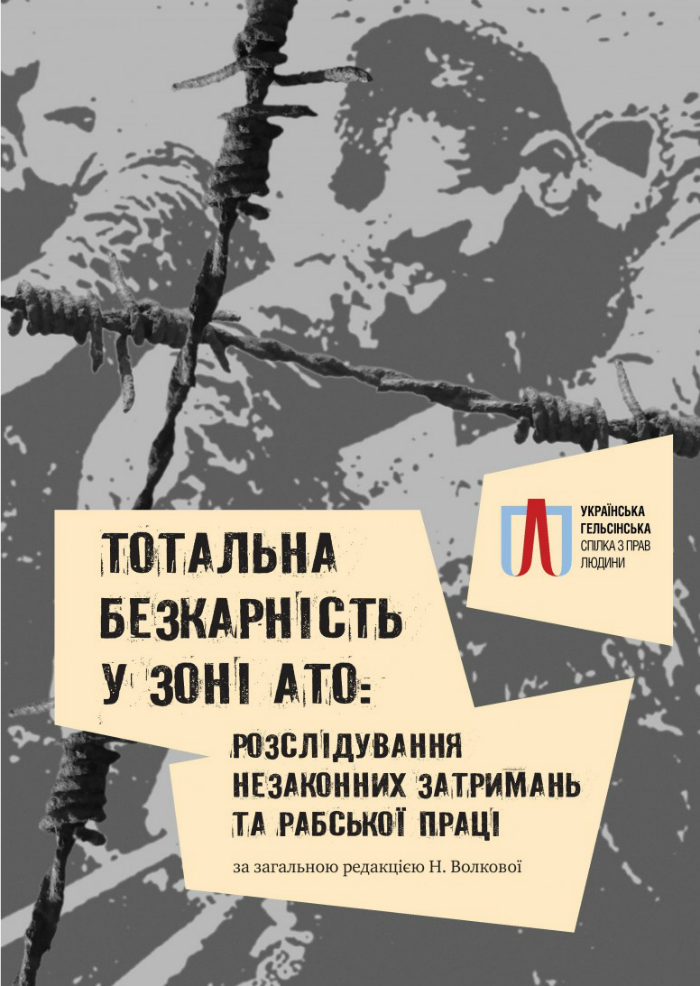 "…The terrorists beat captives, including me, with square iron pipe wrapped in carton, chair legs, hands and feet. They beat all over the body at random, on the head. There were 3-4 minute breaks as they swapped. The terrorists filmed the beatings…" a sufferer witnesses.
The militants also tortured captives with electric current.
"…There were nine rooms in the basement and the terrorists intimidated us that only those strong in spirit would survive. In the first room, they beat on legs, back. In the second room, they forced to grasp live wires; otherwise, they threatened to kill an inmate. I was in those two rooms where they beat me, and where I had to hold the live wires. Other prisoners were brought to other rooms. Some of the prisoners had their hands ironed by terrorists," a tortured soldier said.
Human rights defenders cite a serviceman whom the enemy used air guns against to inflict maximum suffering: "… I was taken aside and had both legs shot with an air gun, several bullets were also fired into my body…"
In addition, as a reminder of captivity, the persons have traces of stab and cut wounds left after tortures.
"…'Chingis' liked knives. I have about 7 or 8 cut wounds after talking to him. He also made the cut behind my ear and began to scrape my skull with a knife. While doing so he commented: 'How much fun it is all the cracking there inside you'…"
The Ukrainian Helsinki Human Rights Union note that the illegal armed groups in eastern part of the country take captives as means of vengeance. They are not treated as individuals. The tortures against them inflict not only physical suffering, but are also aimed to destress prisoners.
"…After I had been severely beaten, I could not move on my own, did not feel my legs up to the pelvis, they damaged my pelvis and spine, ribs, head; I turned the leg. Then I counted 52 wounds inflicted by a club on one knee. The entire floor within 2 meters was covered with blood. Every part of my body was beaten. They broke my arm – the left hand, two fingers on my left hand. That hand suffered the most, as when they finished bludgeoning, I was lying on my right side and the left hand was at the top. They sent for our guys to the basement and they seized my clothes and brought me in. I was beaten to a mummy…"
Inflicting physical abuse, militants try to humiliate the servicemen.
"We experienced abuse next to every house and during halts. We were forced to repent and admit our guilt in the shelling of the city in public; they forced us to kneel, they spat in our faces, ripped crucifixes off our necks, beat and kicked at random all over the body, treated us with disrespectful, malicious, insulting words. All that happened was recorded on camera," the human rights defenders cite a serviceman.
The illegal armed groups abuse captives to demand ransom from the relatives.
"One of the terrorists began to look for her name in my phone, and then started calling her. He put the phone up to my ear and asked to speak to her. When she answered, I just said, "I am sorry". Thereafter he took the phone away. Then, the terrorist began to speak to my wife, threatening her that he would kill me, cut my ear off , etc., if she did not pay ransom for me. I was so much exhausted and beaten, that I do not remember the whole conversation," a sufferer recollects.
The human rights defenders underline that such treatment of captives is a kind of "entertainment" for representatives of the illegal armed formations. Aggression against prisoners by the opposing side appears to be particularly cruel when the guards are drunk or drugged.
"… As I learned later, after 9 p.m., the terrorists behaved quite freely in the premises: drank alcohol, smoked weed. Then, drunk and stoned, the militants began to 'entertain' themselves — they sent for prisoners and began to beat them. That happened every night. Particular attention was paid to those prisoners who had just arrived, and such treatment lasted in the first three days of imprisonment," the human rights defenders quote a sufferer as saying.
The Ukrainian Helsinki Humans Rights Union underscore that the parties to the armed conflict are obliged to adhere to the standards of the international law. In case of their total disregard, the actions of those responsible shall be taken as war crimes.