It's not a problem for Russians to place Grad MLRS behind column of civilians and fire at Ukrainian positions: Story of veteran who escaped from occupied Kherson region
A+
A-
Щоб отримувати корисні матеріали, підпишіться на розсилку
Підписатися
We know from the numerous testimonies of this war that the greatest danger during the occupation awaits pro-Ukrainian activists, former service members, veterans of the anti-terrorist operation (ATO) in eastern Ukraine, and their relatives. The Russians enter the settlements either with ready-made lists for reprisals or try to get them urgently.
When Russia's full-scale offensive began, Ruslan Zaredinov, a Crimean Tatar and ATO veteran, lived with his family in the urban-type village of Novooleksiyivka, Henichesk district, Kherson region, 25km from Chonhar.
They were unable to evacuate due to the almost lightning-fast occupation of Kherson region. For five months, the 35-year-old man and his family lived in fear that the Russians would come for Ruslan as it happened to his friends and familiar veterans.
The man had to hide, change locations, trust almost no one for a long time. He could only dream of going to the territory controlled by Ukraine as there were enemy checkpoints, the Russian military everywhere, and local collaborators could tell on him.
However, when they no longer could live in constant tension, Ruslan and his family – his wife and two sons – managed to escape. The man told ZMINA journalist about their escape and life under occupation.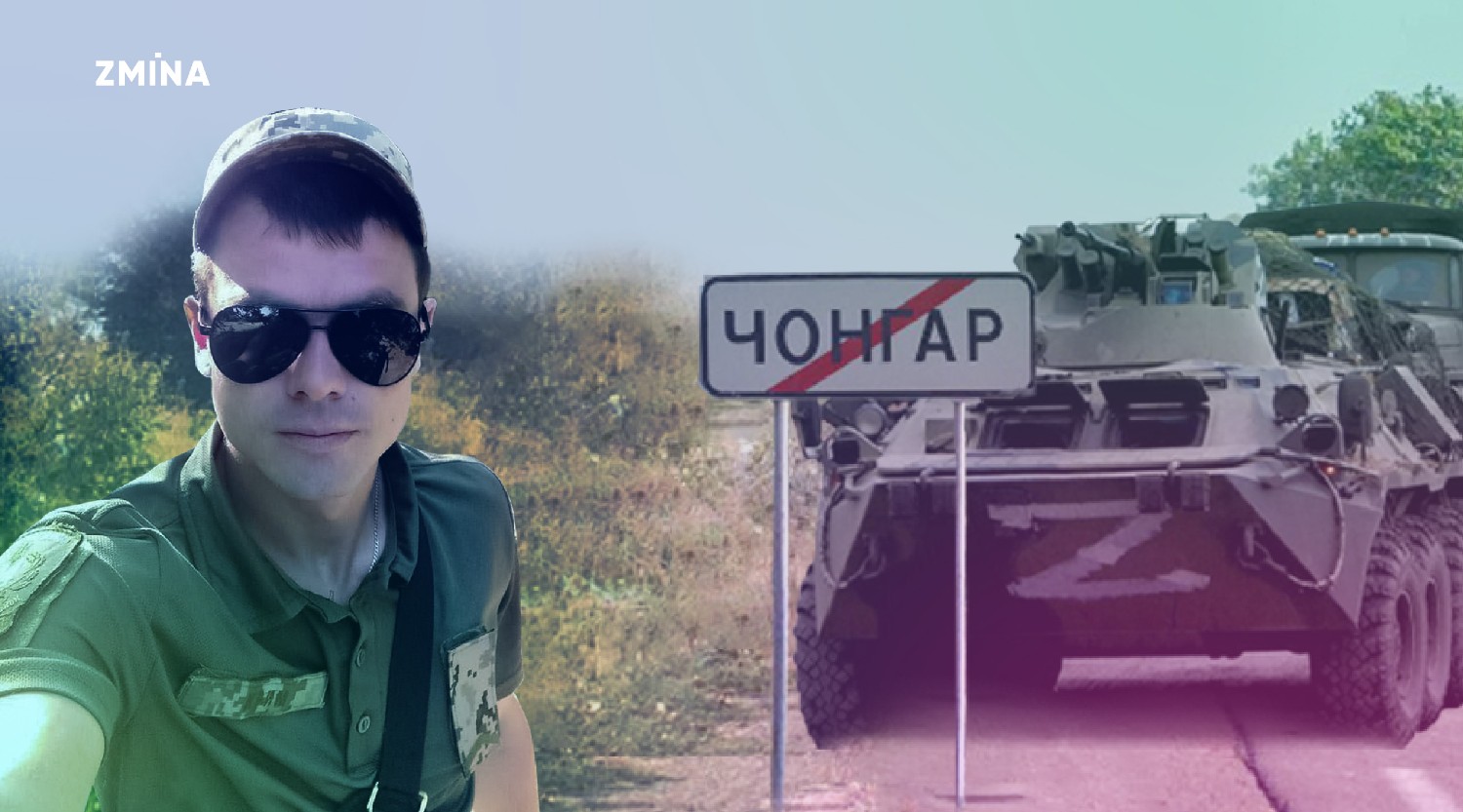 Novooleksiyivka very quickly became deep rear of occupied territory
On February 20, the man received confirmation that the Russian offensive would take place. His brother lives in the village of Strilkove, which is on the administrative border with Crimea.
"He called me and said: 'Something is banging here very loudly.' I called guys in the Security Service of Ukraine I knew and told them about it. They went and looked, and said: 'Yes, something is being planned'," the man recalls.
On February 24, Ruslan's wife woke up at 04:40, and then the man awoke.
"I lie and I hear something banging. But I continue lying with my eyes closed, thinking that the sounds are familiar, but maybe they will pass away? Maybe, it's thunder? And then everything started whistling and flying, and I had no illusions," the veteran says.
One of the missiles flew directly over the house where the family lived. He quickly evacuated his wife and two sons, 5 and 9, to his mother-in-law in a village 60 km from Novooleksiyivka. They thought it would be calmer there. And the man ran to a local military unit a few kilometers from the house. He was late.
He saw a tank and a KamAZ truck marked with the letter "Z" near the building. Russian paratroopers started coming out and running to the unit. They shot into the air. But the Ukrainian military was no longer there.
The occupiers immediately painted their "marks", letters "Z", on the gates of the military unit. However, they did not stay but moved on.
"Our guys managed to leave, it's good. There were not many of them, our battalion was stationed in Luhansk region. Only 40 people remained in place. Some refused to go, they were afraid, in particular, female military personnel. They have been in captivity since the end of March, I don't know what happened to them," Ruslan says.
Despite the lack of resistance, the locals hoped that they would be freed from the Russians very soon.
"We even made Molotov cocktails with a friend, striving to fight back. Melitopol – Crimea highway is practically next to my house. We crawled up to it on the side of the road and saw the equipment moving densely, there were thousands of units. We wouldn't have done anything with those cocktails," Ruslan notes.
Very quickly, Novooleksiyivka became a deep rear. And later, someone gave those who planned to resist away to the occupiers. According to Ruslan Zaredinov, one guy was killed, two were taken prisoner.
"Another man escaped through the window during detention. Now he is in the territory controlled by Ukraine. He got out successfully, without documents, walked through the fields for eight days, sometimes crawled. Then he had certain problems in the government-controlled territory, but he managed to prove that he was a Ukrainian," the man clarifies.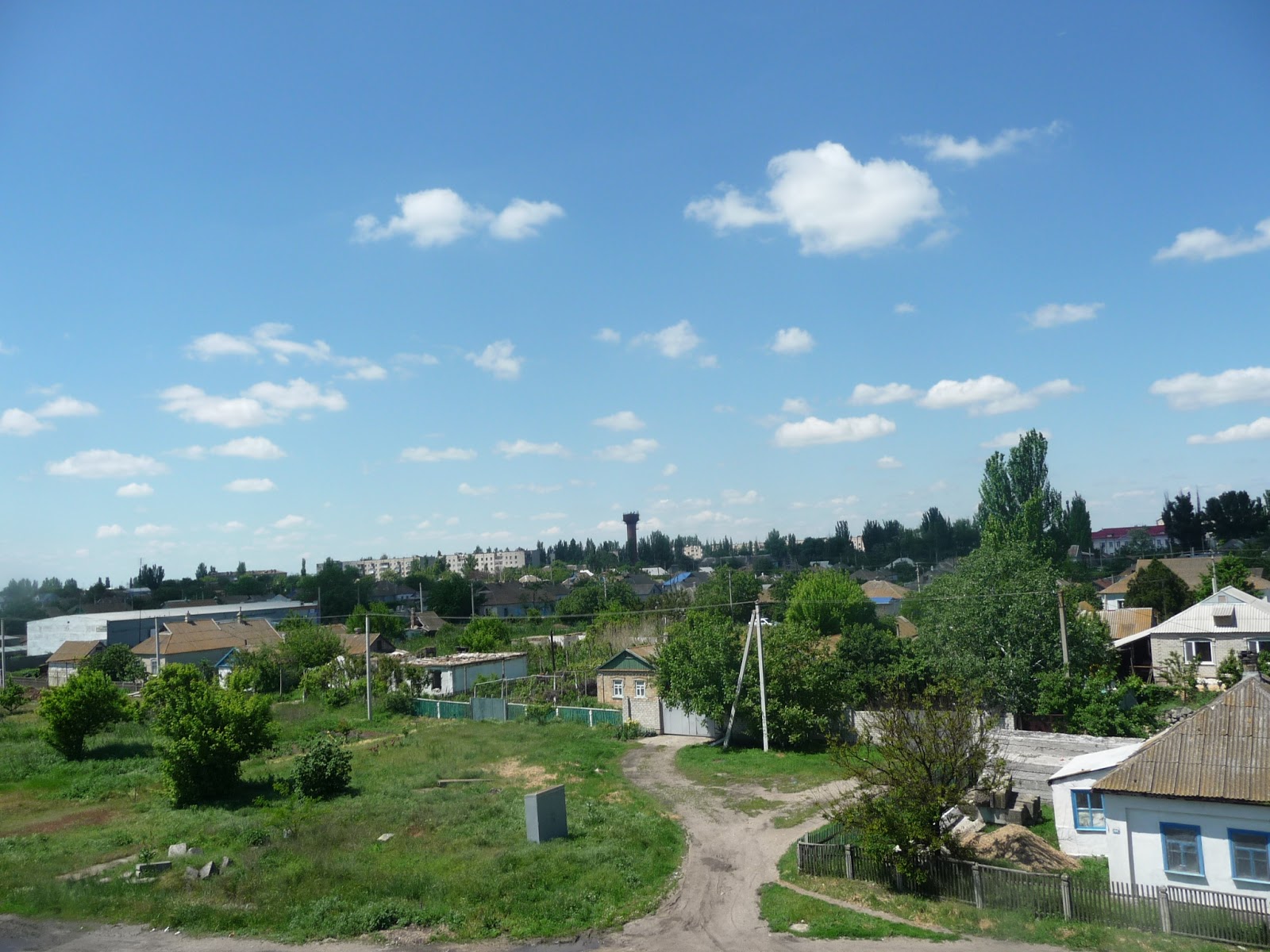 Locals kept going out to pro-Ukrainian rallies
In Kherson region, particularly in Henichesk, local residents kept going out to pro-Ukrainian rallies. They tried to explain to the Russians that they should not stay here, that they would die here… The Russians looked away.
By the way, there were also enough deserters among the Russians, the man says. Those who did not want to fight left through the Arabat Spit. Later, the locals found a Russian uniform abandoned on Syvash Lake: "They used to go through Serhiyivka, for example. The Russians had and still have lists of their deserters."
"And we didn't even try to talk with the people from 'Donetsk People's Republic', they just hate everyone," says Ruslan.
At first, the rallies were held every day but gradually became fewer. The occupiers began to intimidate people not to go out, otherwise, they would be immediately thrown to basement.
"We don't feel sorry for our people in Moscow, imagine what we will do to you," the Russian Guard members told the protesters.
Later, those waiting for Russia became active in occupied Kherson region, they started to give pro-Ukrainian locals away. Ruslan's former employer — a local businessman, owner of holiday homes on the Arabat Spit — suffered because of collaborators.
"He is from Kherson, he collected money for construction for a long time. Then he came here and was building holiday homes for 15 years. He and his entire family have pro-Ukrainian views. His neighbor went to the commandant's office and said that he was "somewhat wrong, he still has a small Ukrainian flag at home." They [Russians] came and beat him and his wife. It's good that they were not taken away. That same night, he left for the government-controlled area, now he is in Germany," Ruslan says.
One of the owners of local shops boycotted the occupiers: he refused to accept Russian rubles and sold goods only for hryvnias. The "liberators" beat him, forced him to accept rubles. But the man resisted as much as he could.
There are quite a lot of cases when Ukrainians are given away by their fellow citizens, says Ruslan. A neighbor does not like something, calls the "commandant's office", a squad arrives.
The Russians drive cars stolen from civilians. They are not ashamed to demonstratively smash a stolen car, abandon it and go pick up another one from locals.
The occupiers made good friends with local hucksters, business flourished: you can buy spice or whatever you want, the man says.
Five packages with bodies taken out of "commandant's office" in six days
During the first days of the occupation, Ruslan says, the collaborators were sitting quietly. Later, supporters of the "Russian world" grew bolder. But there are even more people who turn on a dime.
"I know one man who was a member of the European Solidarity party, then joined the Servant of the People party, and now he cooperates diligently with the 'new government'. We were afraid to even talk to someone because we didn't know who had turned on a dime," Ruslan says.
Even some former service members of the Armed Forces of Ukraine began to cooperate with the occupiers. One of these previously served with Ruslan in one unit.
"He intended to work in a 'regional police department' of the occupiers voluntarily. He tried to convince me that the FSB were normal guys, that everything would be fine," he recalls.
Although Ruslan does not dare to blame everyone indiscriminately for certain actions. He says that he bears no grudge against anyone, because "FSB knows how to crack people professionally."
"I was afraid of being detained because I know a lot. They could crack me, and I could tell them what they wanted. I know that they crack people when they put pressure on the family."
The occupiers caught one of Ruslan's acquaintances in the street during the curfew. He spent six days in the basement of school No. 17 in Henichesk where the Russian Guard members, the commandant's office, are based. He said that Russians had taken five bags with bodies out during that time.
According to the man, the occupiers did not give the bodies of the dead to relatives or friends.
"There are canals, the sea, Syvash Lake, endless fields and plantations around… It's not difficult to hide a person," he says.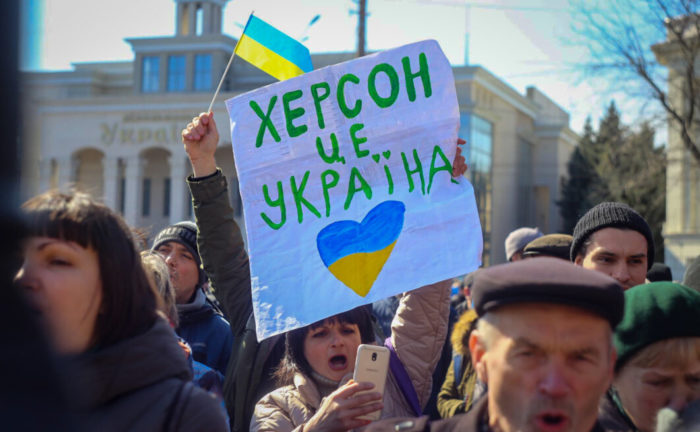 Occupiers hunting volunteers day and night
When the Russians came, Ruslan as a volunteer and a war veteran was exposed to great danger.
For the first time, he went to defend Ukraine from the Russian invaders in 2015 as a volunteer. He served as a sniper in an anti-sabotage intelligence unit. Subsequently, the man fought in Sumy-based 27th rocket artillery brigade equipped with BM-27 Uragan rocket systems. He was a crew member officially and a gunner practically, Ruslan says. He served for a year and two months, including one year directly in the combat zone.
He served under contract for the second time already in 2019, in the 57th brigade, 24th battalion. He was a mortar gunner and fought, in particular, in Pisky, Donetsk region. The man rose to the rank of senior soldier, was commended for good service.
Ruslan says that he would not have been demobilized, but his wife worried much, so he returned to civilian life. He worked as a construction worker on the Arabat Spit and lived an ordinary life: home, household chores, two children, work.
When he learned about the Russian offensive, he did not plan to leave at first, thinking as many other people that the Ukrainian military would fight and not let the invaders enter. However, the Russians entered Kherson region very quickly. With their arrival, the hunt for Donbas war veterans and volunteers began.
"At Chonhar [a settlement on the administrative border between Ukraine and Crimea], FSB officers asked about me several times. I didn't live at home then, I was hiding in different places. I know that the Russian Guard members came to my former place of residence," he says.
Ruslan occasionally visited his family in his mother-in-law's village. Then he stayed and lived there for about a month. And later everyone returned home because it was very difficult to hide. At that moment, Ruslan had almost come to terms with the idea that the occupiers would come for him.
"The neighbor was taken away, he faces 13 years in prison under the laws of the Russian Federation. Another neighbor was badly beaten, they came to his relative, he was not at home, so they turned the house into complete mess. By the way, the one, who faces 13 years in prison, was waiting for 'Russian world'. He was detained because he was noticed in Chonhar during Ukraine's blockade of Crimea. He was not a big supporter of certain ideas, he just went to keep a company. He wanted a 'Russian spring', now he will sit in Russian prison," the man clarifies.
By the way, the Russians really hunt for the participants in the blockade, in particular, members of the Asker Crimean Tatar battalion. The Russians charge everyone who was involved in it with "terrorism" right away. A "lawyer" is appointed, but they do not come, so the "defense" procedure is purely formal.
It was increasingly difficult to hide from the occupiers and collaborators. When Ruslan lived in his mother-in-law's village, the Russian Guard members came and stood in the middle of the street.
"I was lucky: they went from house to house. They took meat, ducks, chickens, milk, eggs from people. They didn't come to my house for some reason, God saved," says the man.
According to him, many veterans and volunteers still stay in the occupied territory and have to hide. It was not difficult for the occupiers to find the "unreliable" ones: there were lists and photos of veterans in schools and kindergartens, local councils.
"It's good that my registered and actual place of residence are different. So they came to the first address for me, but I was not there. They were looking for Ruslan, call sign "Crimea". It was not difficult to find out the last name. Our boys and girls burned their military uniforms and military IDs not to get into trouble. I understand that but I could not make myself burn them, I hid them at home," he clarifies.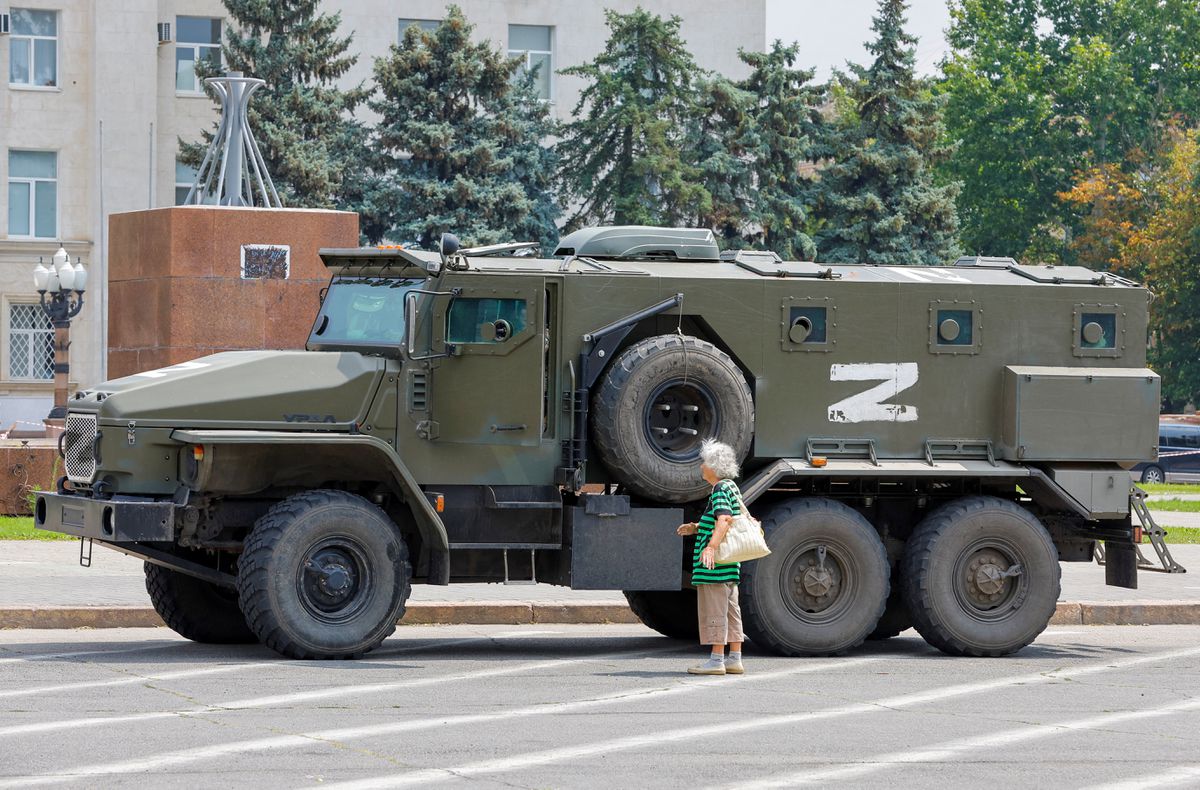 Russian military equipment in occupied south of Ukraine. Source: REUTERS
Five months under occupation
Despite everything, Ruslan Zaredinov did not hide at all and openly attended pro-Ukrainian rallies during the first month of the occupation. But it became increasingly clear over time that they were in the deep rear, and the danger was only intensifying with each passing day.
"There is regular shooting into the air at the occupiers' checkpoints. There were two such on the road towards Henichesk. Mostly Ossetians stood there. Taxi drivers tried to talk to them, but they were mostly rude in response. Some men said that they did not need this war, that they were forced to come here, that they had nothing to do with it. But you are standing with a machine gun, constantly moving the shutter in front of my eyes, pointing it at me… So do you have nothing to do with it?" the man wonders.
His friend, who was leaving for Chonhar, called and told that the occupiers at the checkpoint asked whether he knew Ruslan "Crimea", who is he, where does he live…
"I realized that it was time to leave. I wanted to leave immediately for government-controlled territory, it was mid-March. I went to pick up my family but decided to wait a little longer. There were already a lot of checkpoints. People said that the Russian military had lists of the "unreliable". The occupiers found many papers in military committees and official institutions. However, my wife and I hoped to the last that our troops would come, I would get out of the village and help them," the veteran recalls.
After staying more than a month in the village, it became clear that there was no point in hiding. Ruslan got used to the fact that he would be taken away sooner or later. He worried about the house that was left without care. They returned home and stayed there for about two months.
"But it was impossible to live like that, under constant pressure. We got fed up and decided to leave."
Just three days before the family's departure – from July 25 – the Russians began to deliver tanks, albeit old, heavy equipment, armored personnel vehicles, KamAZ trucks. Trains of the occupiers entered Kherson region from Crimea. The Russians were singing, shouting some slogans very loudly, the man recalls. It hurt to see that.
A friend warned Ruslan that the Russians had some lists at a checkpoint near Melitopol. Occupiers walk with them, check those who leave.
"And I thought: they're looking here, they're looking there… You can't live in constant tension. Either they will come to my house, take me away and scare the family, or they will take me at a checkpoint. But at least the family will have a chance to go further. That is, I almost accepted a thought: I am a captive," the man says.
The family spent five days and four nights under the open sky
The family decided to go through a checkpoint near Vasylivka, Zaporizhzhia region. It was the only gate for residents of the temporarily occupied territories of Zaporizhzhia, Kherson, Donetsk, and Luhansk regions leaving for the controlled territory.
The family was preparing for the departure, even made up a certain "legend" for the occupiers.
"We made up that I was going to my brother's to work. I had to call my friend so that he confirmed it. We found out that one should not say at Russian checkpoints that you were going to Kyiv, only to Dnipro, Zaporizhzhia or other cities. You may also say you go abroad, but not to Poland," Ruslan recalls.
And, of course, the war cannot be called a war, only a special operation. That is, one must prepare to communicate with the occupiers during departure, in particular, to prepare yourself mentally, to behave confidently and speak persuasively.
"My younger son, when we were still in Novooleksiyivka, could walk down the street singing "Oh, the Red Viburnum in the Meadow" [Ukrainian patriotic song], so I had to run after and calm him down. I worried that he could blurt something out at the Russian checkpoint. The older one understands when you can say something and when you can't, and the younger one could call them fascists or say something about Putin."
The first thing that hindered the family from leaving was that they did not know where to go. They have no relatives. Although they have acquaintances, fellow service members in many cities. But before leaving, Ruslan deleted many numbers while mopping up his phone. He had two tattoos on his legs – a coat of arms and a grenade. He had to get new ones over and wait for skin to heal.
"It's not a big deal," says the man, "the main thing is that I left, I will get an even bigger coat of arms tattooed."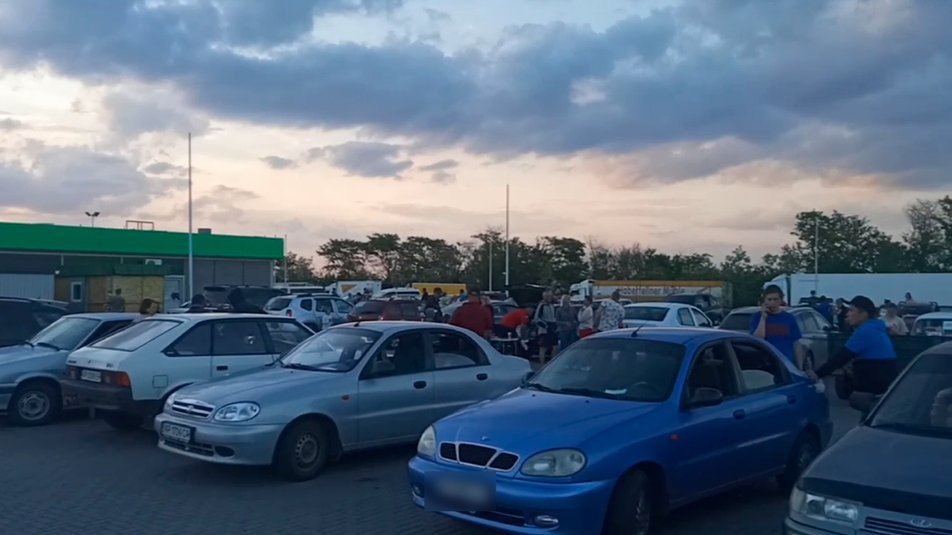 In total, the family spent five days and four nights in Vasylivka.
"The Russians were not ashamed of firing from behind the backs of civilians, hiding behind us. When we were in Vasylivka, they opened fire from Grad MLRS on Orikhove, where the Ukrainian military was stationed, right through us," Ruslan says.
A taxi driver, who undertook to take the family to the government-controlled territory, promised that it would take a day.
"I suppose that they paid the Russians at the checkpoint. But on the very day when we arrived, the FSB commission came for inspection, so we had to stand the whole line. Five days. There were six of us in the car. I, my wife, and two children were sleeping in the back seat," he said.
When they arrive, their car was the 696th in the line, then Ruslan saw the 1260th car. In the first days, the Russians let only 20–30 cars go per day. So more than 2,000 cars gathered. Subsequently, they began to let a bigger number go, 100–110 cars a day.
The first day was the most difficult one: the children were very naughty. Ruslan's elder son understood the situation, and the younger one kept saying: "I don't want to be here, let's go back home."
"On the second day, we adapted a little. And in the end, we were like locals," the man smiles.
During the day, the family did not stay in the car, the driver gave them a bed sheet. It was very hot, so they looked for shade. There was something like a cafe near the checkpoint. They found a place near a freezer, spread the sheet: there was shade and slight draught. There was a Roma camp nearby, in general there were a lot of people: some were walking, some were sleeping in a car, under bushes, under a car. There were a lot of children, even babies.
"There was little food. We thought we would be on the road a day, two at the most. We stretched stocks for three days, bought something for children in the café, and ate what children didn't finish. But it was bad without water," Ruslan says.
There were no toilets, everyone was going to plantations.
"I was not so afraid of triggering a tripwire in Donbas as I was afraid of stepping into shit here. On the third day, the Russians made us clean up the garbage. They said that no one would be let go until it was clean. It's good that one of the guys had a package of plastic gloves, so we used them."
Finally, people were allowed to go to the checkpoint. Evacuation columns were formed by ten cars. People were checked mostly by Kadyrov's soldiers.
"When the FSB commission arrived, the Russians replaced Kadyrov's soldiers. I said goodbye to everyone, I thought that they would definitely pick on me. When they started the inspection, such a little bastard was running around. I was praying that he wouldn't come to me because he checked very carefully: phones, things, bags, clothes… Fortunately, another Russian approached me. He only forced me to turn out the bag. I saw that people were checked very meticulously, but I was lucky.
And they let us go. When the fighters were checking our passports on the Ukrainian side, people were coming out and hugging them: 'Ours!', we kept smiling.
I'm sitting in the car and I can't say a word. And my younger son saw the Ukrainian flag and started demanding to be photographed with it," Ruslan smiles.
It's awesome feeling when you don't have to hide from everyone
The man still believes that he and his family were very lucky to escape from the occupation. Even the rain stopped when they were driving, because otherwise the road would have been washed out for at least a week.
"Maybe someone from above saw that we were already on the edge. I lost a lot of weight during the occupation because I was constantly nervous," says Ruslan.
Then the family had to get to Kyiv. They called a taxi to the railway station, talked to a taxi driver.
"And we definitely had a lack of communication. The guy brought us to his house to take a shower. A stranger invited strangers to his place. He offered us something to eat, but we really wanted to go, we ran for the train."
The commander, with whom he served in the 34th battalion in 2019, helped Ruslan to rent temporary housing in the capital, in Sofiivska Borshchahivka district.
"His family helps us a lot. Serhiy Vikarchuk helped a lot, I thank him very much. Through him, strangers approached us, helped us with things, household appliances, and money. It was very touching, it was very pleasant. Our Ukrainian people are the best. It's a pity that I can't thank them all personally," the veteran says.
He remembers the strange feelings when, after escaping from the occupation, he went outside for the first time, to the playground with his sons: "When your people are around you, you don't have to hide, and it's awesome."
"Of course, I would like to return home," he says, "When I was leaving, I said goodbye to the house, which had just been repaired, appliances, furniture was bought… But I had to close everything and leave without looking back."
"I am restoring documents, a military ID, a combatant status certificate. I want to settle my family properly, their everyday life, and join the army," Ruslan says at the end of our conversation.
Later, the man said that he had joined the Armed Forces of Ukraine on September 3. Now he is a mortarman and fights for the freedom of Ukraine.