Video evidence in Chiygoz case denies testimony of crown witness
A+
A-
Щоб отримувати корисні матеріали, підпишіться на розсилку
Підписатися
On Thursday, during a court hearing on the "February 26 case" "court" considered the video as a proof of guilt of Ahtem Chiygoz.
As reported by the correspondent of the Human Rights Information Centre in the Crimea, video evidence denied testimony of a secret witness Ablaev. He allegedly saw that Ahtem Chiygoz was giving out orders to people and then crowd started to riot.
Thus, journalist of local new agency recorded a stand-up from the place where the witness Ablaev was standing, according to his testimony.
"But Chiygoz cannot be seen on the video and it is clearly seen that the view from that place is limited due to the large number of people", – noted the correspondent.
Another file, which was provided in the court, it is visible that the crowd is happening on the left side and Chiygoz is located on the right flank, where no events occur.
"It is visible on the video that the defendant has not given out any instructions, has not made hand signals and not at all in any way performing those actions of which he is accused by the occupation authorities", – said the correspondent of the Human Rights Information Centre.
In the past few court hearings several crown witnesses claimed to have heard Chiygoz make movements with his hands and spoke in Tatar: "ur", "bas", and "alga" (punch, push, forward – ed.).
The file clearly depicts that the pressure is initiated by the pro-Russian rally participants.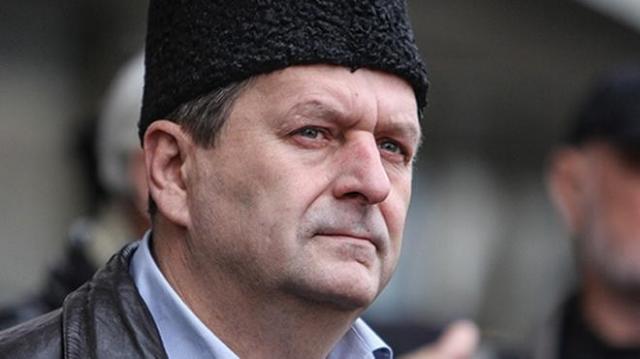 Chiygoz himself stated that he was very lucky and that Prosecutor's Office with the investigation let those files slip, by assigning them to evidence.
"Some witnesses now look even more laughable", – he added.
Correspondent noted that a significant portion of video evidence was examined in a course of the trial. Among those files not a single was presented, which could indicate illegal actions of Ahtem Chiygoz.
As a reminder, judicial process regarding Ahtem Chiygoz, the Deputy Chairman of the Mejlis of the Crimean Tatar People, is continuing in the Crimea. Russian de facto authorities of the annexed Crimea accused Chiygoz of organizing mass riots in front of the Crimean parliament on February 26, 2014. On that day, there was a clash between the pro-Russian activists and participants of the rally in support of the territorial integrity of Ukraine.
In February 2016, Russian "Memorial" human rights center has recognized the defendants in the "February 26 case" (Ahtem Chiygoz, Ali Asanov and Mustafa Degermendzhy) as political prisoners.