FSB arrest Ukrainian activist Balukh in Crimea
A+
A-
Щоб отримувати корисні матеріали, підпишіться на розсилку
Підписатися
In the village of Serebryanka, Razdolnensky district of Crimea, FSB was conducting a 4 hour search in the house of Ukrainian activist Volodymyr Balukh and his mother. The activist was detained after the search.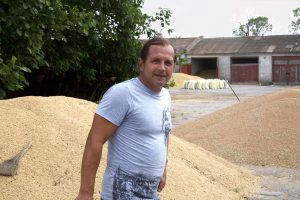 His wife informed the Crimean Human Rights Group about the search.
According to her, the employees of FSB said that 90 rounds of ammunition and several TNT blocks were found in the attic of the Balukh's house.
Relatives suggest that the FSB officers planted the ammunition during the search.
"Volodymyr Balukh is not just a person with a pro-Ukrainian position, he is also a symbol of Ukrainians in Crimea. This is not the first time he has been arrested. Searches were conducted before. He was arrested and put in administrative detention, he was beaten and a criminal case was opened against him", said Olga Skrypnyk, Head of the Crimean Human Rights Group.
Skrypnyk also said that in addition to the Ukrainian flag he put up a plaque saying "Heroes of Nebesna Sotnya Street" which he believes is the proper name of his street. Soon after he was visited by so called Head of the Village Council who threatened Volodymyr that he would be persecuted due to this. Which is exactly what happened.
"We are aware that he is located in Razdolnensky Temporary Detention Centre. These are obvious signs of a new criminal persecution on freedom of expression", informs Skrypnyk.
According to her, CHRG will follow this case as well as help spread the news about Balukh and provide his wife with legal support.
As a reminder, Volodymyr Balukh is an activist, known for his pro-Ukrainian position. Two searches were already conducted in his house. The first search took place in April, 2015. During the search the Ukrainian flag was taken down from the roof. After the second search the Ukrainian was accused of insulting a police officer Yevgeniy Baranov and sentenced to 320 hours of correctional labor.
On November 29, 2016 Volodymyr Balukh posted a plaque stating "18 Heroes of Nebesna Sotnya Street" – on the wall of his house. Shortly after posting the plaque he was visited by Vitaliy Stepanyuk, Head of the Village Council, who threatened to report him to the police.