Charges were brought against Ukrainian activist Balukh in Crimea
A+
A-
Щоб отримувати корисні матеріали, підпишіться на розсилку
Підписатися
Today, the Russian occupational investigation brought charges against Ukrainian activist Volodymyr Balukh with illegal acquisition and possession of ammunition.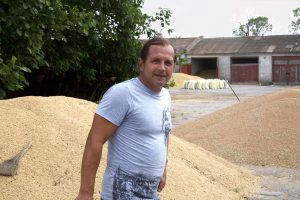 This was informed by the Crimean Human Rights Group.
Balukh himself disagree with the accusation and denies his guilt. Group experts believe that the new criminal case against Balukh is a continuation of a politically motivated persecution of the activist for his public pro-Ukrainian position.
As a reminder, Volodymyr Balukh is an activist, known for his pro-Ukrainian position. Two searches were already conducted in his house. The first search took place in April, 2015. During the search the Ukrainian flag was taken down from the roof. After the second search the Ukrainian was accused of insulting a police officer Yevgeniy Baranov and sentenced to 320 hours of correctional labor.
On November 29, 2016 Volodymyr Balukh posted a plaque stating "18 Heroes of Nebesna Sotnya Street" – on the wall of his house. Shortly after posting the plaque he was visited by Vitaliy Stepanyuk, Head of the Village Council, who threatened to report him to the police.
On December 8 in the village of Serebryanka, Razdolnensky district of Crimea, FSB was conducting a 4 hour search in the house of Ukrainian activist Volodymyr Balukh and his mother.
On December 12 Razdolnensky District Court of Crimea under control of Russian authorities has chosen a measure of restraint for Balukh in the form of detention for a period of 30 days. The prosecution among its arguments point to the fact that the activist "has not handed over his Ukrainian passport and did not give up the citizenship of Ukraine."