G7 ambassadors concerned by Myrotvorets website lists
A+
A-
Щоб отримувати корисні матеріали, підпишіться на розсилку
Підписатися
The British Embassy in Ukraine has released the statement of G7 ambassadors on disclosure of personal data of journalists on the Myrotvorets website.
This is stated on the website of the Embassy.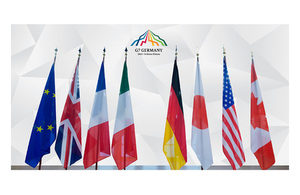 Thus, the statement mentions that, according to the Ukrainian law, the personal information can only be publicly released with the individual's consent.
The ambassadors remind that disclosure of personal data also contradicts the international commitments of Ukraine.
"We acknowledge the investigations launched by the Government of Ukraine on this matter and hope the results will be shared with the public. The characterisation of all listed journalists as "collaborators with terrorists" endangers the personal security of those affected and Ukraine's hard-won media freedom. Journalists should be able to carry out their work free from threats, harassment and intimidation. It is vital, and in Ukraine's interests, that journalists are able to report on events in the Donbas and elsewhere," the statement reads.
The ambassadors called on those responsible for Myrotvorets website to remove personal information from the site and to desist from inflammatory language.
"The Minister of Interior has said that he will take action where threats are made," the British Embassy in Ukraine noted.
At the same time, the Kyiv police search for affected journalists and invite them to come to the investigation department.
According to the press service of the Investigative Department of the Main Administration of the National Police in Kyiv, the criminal proceedings under Part 1 of Article 171 of the Criminal Code of Ukraine (Preclusion of legal professional activities of journalists) are being investigated now. This order was given by the Kyiv Prosecutor's Office on the fact of publication of lists of journalists, allegedly accredited in self-proclaimed republics of "DPR" and "LPR", by Myrotvorets website.