MPs voice support for ratification of Rome Statute
A+
A-
Щоб отримувати корисні матеріали, підпишіться на розсилку
Підписатися
Joining the International Criminal Court means showing the world that there is no place for impunity for the most serious crimes in Ukraine.
This is said in the statement of the EuroOptimists Ukrainian interfactional association.
The MPs remind that ratification of the Rome Statute is our international commitment. It will allow not only improve the national system of justice but participate in the International Criminal Court as well.
"If Ukraine delays the ratification of the Rome Statute for three years, it will not be able to vote for the opportunity of the International Criminal Court to start to investigate the crime of aggression. Ukraine recognizes the jurisdiction of the International Criminal Court and has the corresponding duties but does not have a number of rights. We cannot have any Ukrainian judge in the ICC, put forward proposals and vote in the Assembly of participating states, approve the budget of the court and make appropriate contributions. Ukraine is a passive subject of the judicial system," reads the statement.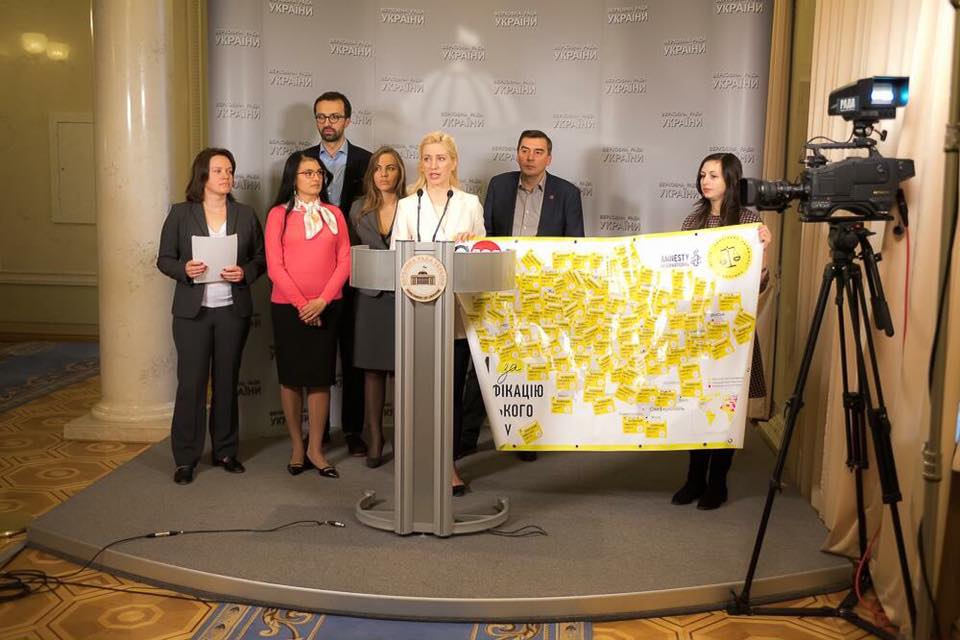 The EuroOptimists association members, MP Svitlana Zalishchuk (BPP faction) MP Olena Sotnyk (Samopomich faction), MP Serhiy Leshchenko (BPP), MP Dmytro Dobrodomov (BPP), MP Viktoria Voitsytska (Samopomich) together with Euromaidan SOS human rights activist Iryna Dumych and Amnesty International representative Oksana Pokalchuk demanded the ratification in the Parliament.
Earlier, President of Ukraine Petro Poroshenko suggested introducing the changes in the Constitution, which put off ratification of the Rome Statute for three years.