Akhtem Chiygoz was not allowed to visit funeral of his mother
A+
A-
Щоб отримувати корисні матеріали, підпишіться на розсилку
Підписатися
In occupied Crimea, Akhtem Chiygoz, Deputy Chairman of the Mejlis of the Crimean Tatar People, was not allowed to visit his mother's funeral.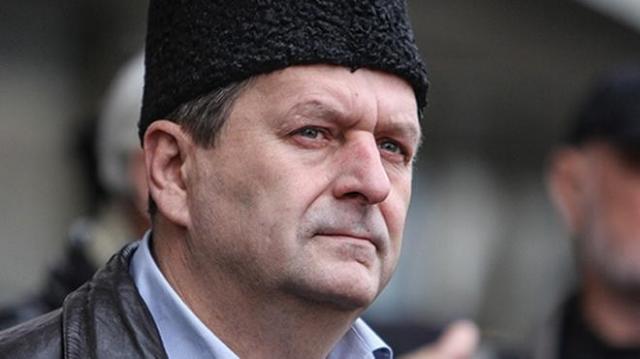 As reported by Chiygoz's lawyer Nikolai Polozov.
According to him, Aliye Chiygoz died on the night if July 2 after a serious and prolonged illness and her funeral was to be held on the same day, as required by religious orders.
Polozov sent an appeal to Russian Ombudsman Tatyana Moskalkova and Chairman of the Human Rights Council Mikhail Fedotov requesting to take the necessary steps to provide Akhtem Chiygoz with an opportunity to attend his mother's funeral.
"Elmira Ablyalimova, wife of Akhtem Chiygoz, tried to transfer to the Simferopol SIZO (pre-trial detention centre) the statement about giving him the opportunity to take part in the funeral ceremony for his mother today. Duty man refused to accepd this statement, since it was Sunday, the office is closed and the chief is absent ", – Polozov wrote on his Facebook page.
Farewell ceremony to Aliye Chiygoz began on July 2 at 2:00 p.m. in the Dolynne village in Bakhchysarai district. According to the Muslim tradition, she should be buried before sunset.
Crimean Tatar activist Nariman Dzhelalov called on all compatriots to attend the funeral of Akhtem Chiygoz's mother.
"Akhtem, most likely, will not be able to attend. They will be afraid to bring him to the funeral of his mother. Therefore, we will fulfill this duty. It is a duty of every Muslim. I will be Akhtem Chiygoz! And so will you!", – wrote Dzhelalov on his Facebook page.
As a reminder, on June 20, Russian authorities of the Crimea after several refusals gave Akhtem Chiygoz permission to say goodbye to his mother. According to witness, Akhtem was handcuffed during this meeting.
Akhtem Chiygoz was detained in January 2015 for participating in a rally in support of the territorial integrity of Ukraine in front of the Crimean parliament on February 26, 2014. Then protestors opposed the pro-Russian activists, including those from the Russian Unity. Russian authorities of the annexed Crimea accuse Chiygoz of organizing mass riots.
Russian court is considering "Chiygoz case" as part of "February 26 case", which on July 20, during a closed court hearing was divided into two different cases: a separate case on Deputy Chairman of the Mejlis Akhtem Chiygoz and separate case of other defendants – Ali Asanov and Mustafa Degermendzhi.
Akhtem Chiygoz has been in SIZO for two and a half years.