Three stories about the abuse and inhumane conditions for Ukrainian women prisoners
A+
A-
Щоб отримувати корисні матеріали, підпишіться на розсилку
Підписатися
During the war, Russian occupying forces abducted and held in prisons not only Ukrainian men but also women, regardless of age and status. Women are also subjected to torture, intimidation, and horrific conditions. They are accused of terrorism, adjusting fire, and collaborating with the Ukrainian armed forces.
According to the Ministry of Reintegration of Temporarily Occupied Territories of Ukraine, 126 Ukrainian women remain in Russian captivity, 46 of whom are military personnel and 80 are civilians.
Russian occupying forces are holding women in detention centers and colonies. Having been subjected to horrific torture and abuse, some of them may not return home or become disabled. All of the Kremlin's prisoners who have been released have serious health problems. The most socially vulnerable are civilian women, who are not provided with rehabilitation measures after returning from Russian detention centers.
Read about how Russian forces detain women, the conditions in which they are held, and their treatment in Russian prisons in the stories of the director of a village club and a masseuse from Melitopol, Zaporizhzhia region, and a volunteer from Mariupol, Donetsk region, shared with ZMINA by the prisoners themselves or their relatives and friends.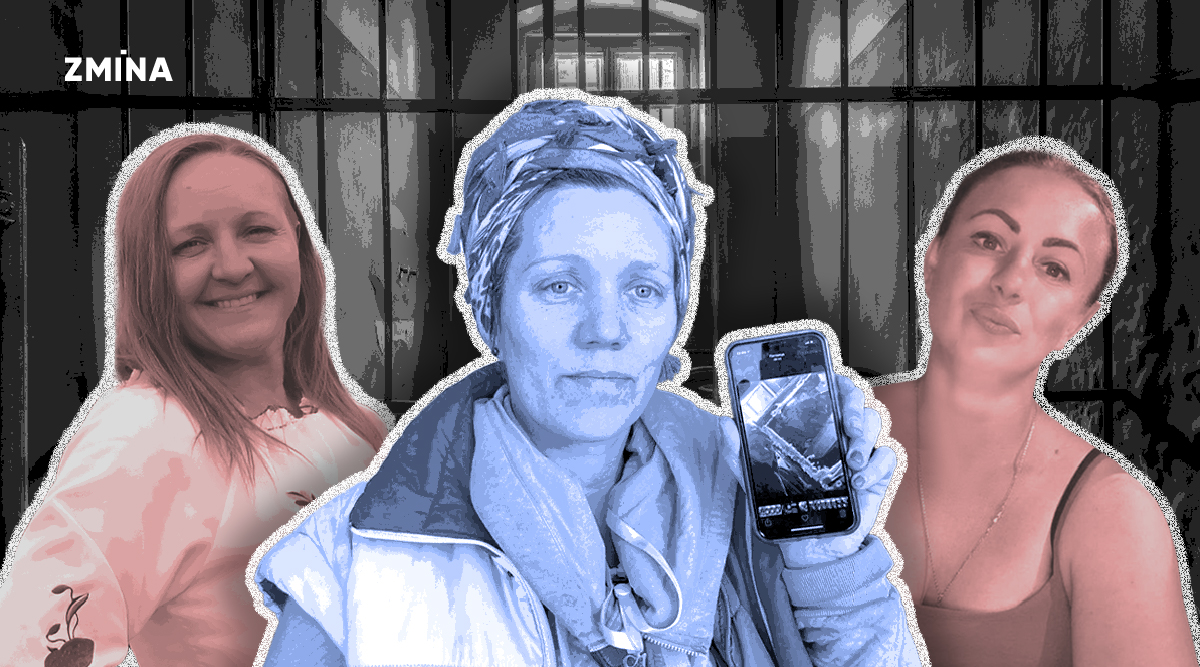 Svitlana Silvanovych, director of the Urozhayne village club, was detained three times for patriotism
Svitlana Silvanovych, director of the village club of Urozhayne, a village in the Tokmak district of the Zaporizhzhia region, was detained three times by the Russian occupying forces, and shortly after her last detention in October 2022, Svitlana disappeared.
Svitlana's friend Daryna (name changed) says that after the village occupation, Svitlana took some of her belongings home from the club – costumes, Ukrainian flags, and decorations. She wanted to protect them from being looted and destroyed by the occupiers.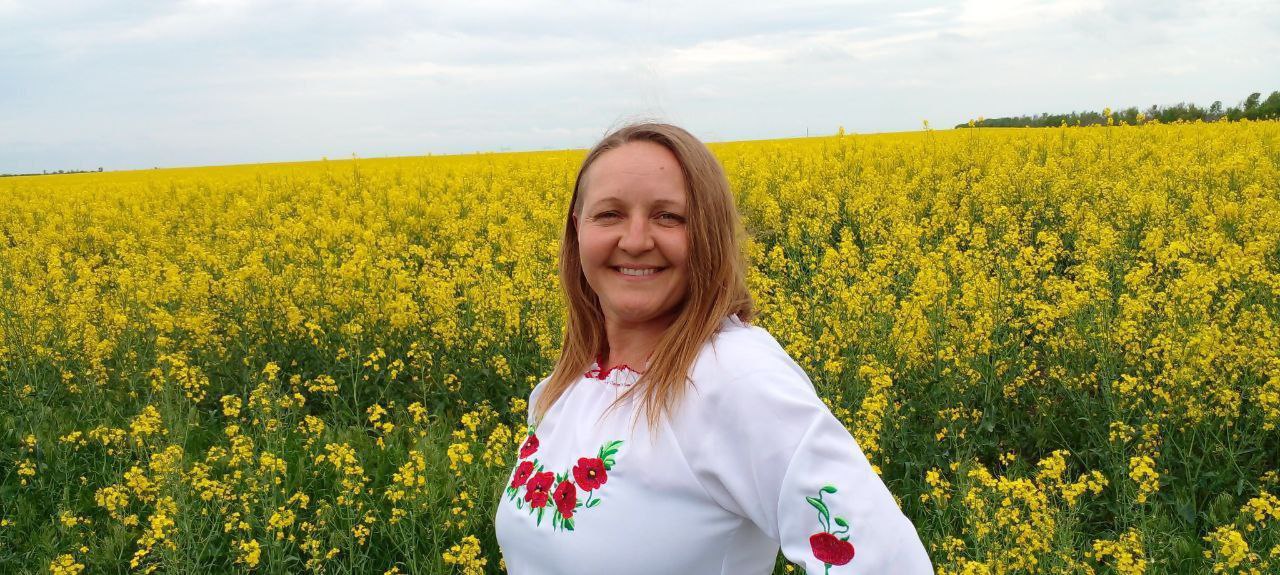 In May 2022, five Russian soldiers came to Svitlana's house to search it. They said they had received information about the woman possessing patriotic symbols and Ukrainian flags. They added, "We were told that patriots of Ukraine live here." Since Svitlana did have Ukrainian state symbols in her home, the Russian occupying forces immediately found them.
"After the searches, Svitlana was detained, and her husband was ordered to come to the police station in two hours to pick her up. Before releasing the woman, he was told, "Here she is. We even gave your wife a cup of coffee. Everything is fine," Daryna says.
The second time the Russian military broke into the couple's home was October 1, 2022. During the second search, the occupiers found money and asked: "Where did you get the money? Do the Armed Forces of Ukraine pay you for helping them?" The couple replied, "It's our money. We earned it." However, the Russians were unconvinced and took Svitlana with them again. This time, they accused her of patriotism and cooperation with the Ukrainian Armed Forces. Before they left, Svitlana's husband was told that his wife would be taken to Tokmak, approximately 25 km West of the village, so he could bring her a parcel there.
"Of course, they took the money with them but returned it later. Finding nothing else, the Russians accused her of deleting all the information from her gadgets. Finally, they (the occupiers) added, "We will find everything and dig it up anyway," Svitlana's friend testified.
Daryna recalls that in the afternoon of October 4, Svitlana was brought home by men in civilian clothes. The woman assumes they could have been Federal Security Services of Russia (FSS) officers. During the abduction, Svitlana was not beaten but only interrogated. Each time, she was asked, "If you have a pro-Ukrainian position, why didn't you leave? Why didn't you get a Russian passport?"
The woman answered, "I didn't leave because I lived here and didn't need a passport."
For the third time, the occupiers came to the Silvanovychs' house in the morning on October 24, 2022. This time, they were in the military cars. Having surrounded the yard, the Russian military broke into the house, twisted her husband's arm, and put him face down on the floor. Then, as usual, they searched the house, confiscating his phones and tablet. Svitlana was ordered to pack her things, and her husband was told, "You don't need to get dressed. We're going to shoot you now."
They took him outside and, shooting at his feet, said, "Run, and we will shoot at you afterward." He replied that he would not run and continued to stand still. Afterward, they put a bag over his head, tied his hands, and put him in a car.
"The couple was put into different cars and taken to the police station in Tokmak. They were both interrogated in different rooms so that they could hear each other through the wall. At the police station, Svetlana's husband was beaten on the legs and back with truncheons," says Daryna.
According to her, the Silvanovych family was separated the next day: Svitlana was put in a car and driven away in an unknown direction. At the same time, her husband was released, returning his phone and tablet.
After that, Svitlana's husband went to Tokmak several times until one of the Russian officers told him that his wife had been taken to Berdyansk, 103 km South from Tokmak, to her place of residence. He started going there almost every day, but he was told she was not there every time. On November 4, near the pre-trial detention center, one of the penitentiary employees confirmed that Svitlana was held there and agreed to pass on her belongings.
"The Silvanovych once bought an apartment in Berdiansk where Svitlana was registered. During interrogations, the Russians asked them, "How did you get an apartment in Berdyansk? Is it because the Armed Forces of Ukraine are helping you, and you bought an apartment?" To which the man and woman replied, "We purchased it back in 2020," says the friend.
Daryna recalls that on November 7, Svitlana's husband was told in the Berdyansk Detention Center that she had been released. They added, "Go to the police station and write a statement. Perhaps she went with someone else." At the police station, he was told that Svitlana had been deported to Ukraine through Vasylivka, near Kakhovka Reservoir.
"The occupiers told the family that Svitlana was taken to the last checkpoint, released and that it was not their problem where she went. After that, she went missing, and her family still does not know where she is. According to rumors, many women are being held in Vasylivka," says Daryna.
According to unconfirmed information Daryna received, Svitlana may be held in Berdiansk colony No. 77. There is a separate building for women there.
Yanina Akulova, a masseuse from Melitopol, was accused of a terrorist attack and taken to Lefortovo Prison
According to her sister, Kateryna Radchenko, a masseuse from Melitopol, Yanina Akulova, stopped contacting her on October 12, 2022.
Later, it turned out that on October 11, Russian soldiers detained Yanina at one of the checkpoints, where she had arrived in her car. At two in the morning, the woman was brought home to be searched for explosives. Despite having found nothing, the occupiers returned there several times.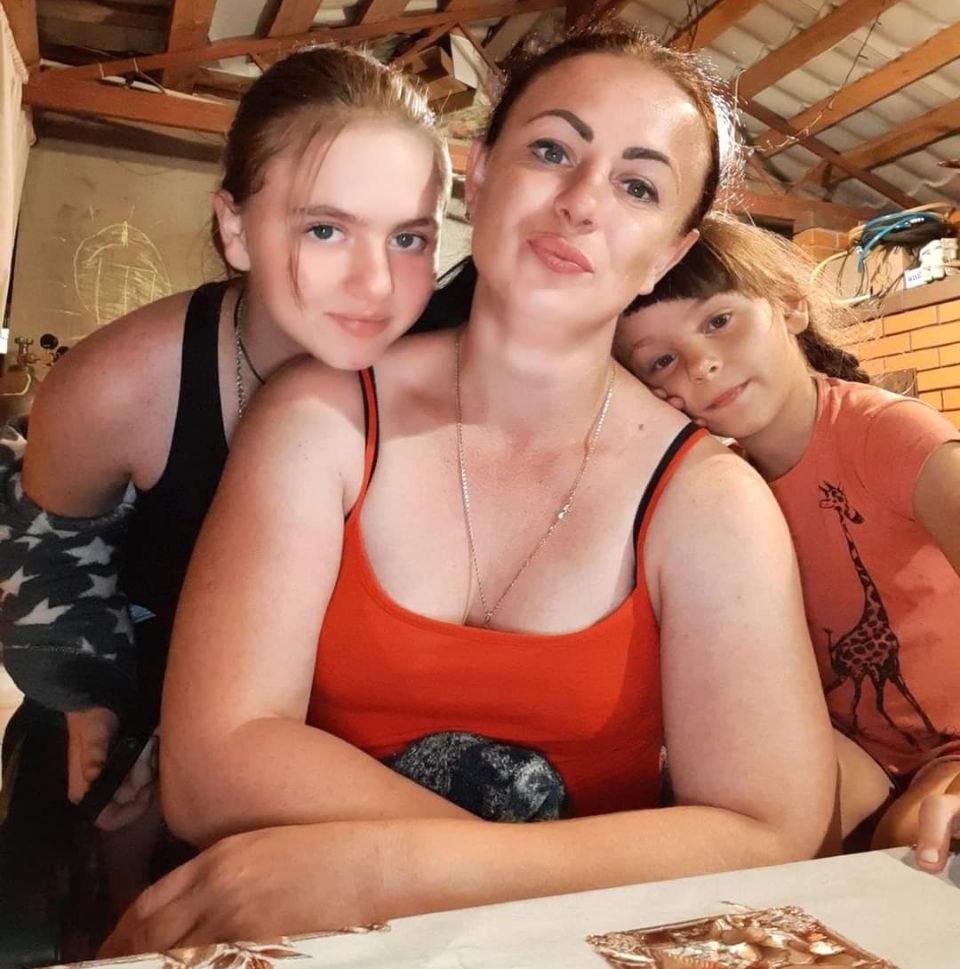 "My friends who saw her that day said she looked fine. Yanina even managed to tell them, 'I'm fine.' We had been looking for her for a long time, even went to the 'commandant's office,' but they said they didn't have her. The 'police' refused to accept the report of her disappearance," says Kateryna.
Yanina's sister knew only by hearsay that all the abducted and detained civilians were kept in the so-called "pit" in the basements.
Kateryna recalls that on November 24, Russian TV channels aired a story about the Russians exposing an alleged terrorist group led by Yanina in Melitopol. According to the Russians, the suspects planned to commit a terrorist attack on the local market. The Russian occupying forces detained three people taken to the Lefortovo Detention Center in Moscow, including Yanina.
"Yanina is charged with an attempted terrorist act (Article 205 of the Criminal Code of Russia) committed by an organized group by prior conspiracy and illegal trafficking in weapons and explosives (Article 222.1 of the Criminal Code). Two more guys were added to the group – Anton Zhukovsky and Dmitry Sergeev. They face 12 to 20 years in prison. We do not know who these two men are at all."
In Lefortovo, the investigator allowed Yanina to call her family four times. During the first conversation, the woman said she was beaten for two days and forced to sign some documents. She was kept in an unknown place and waited until her wounds healed before being sent to Moscow. In the subsequent short conversations, Yanina kept crying and repeated that she was fine and missed them very much. She also asked how her two daughters were doing.
Realizing the situation's complexity, the family hired a lawyer to defend Yanina in court and buy everything she needed for the money they sent. The lawyer said that the woman had lost 15 kg due to poor nutrition.
"Yanina has asthma and needs inhalers. Still, she assured us that she was given all the medicines she needed," says Kateryna.
Officially, the Russians claim that they detained Yanina on November 24, 2022. But in fact, they abducted her on October 11. The family keeps asking themselves, "Where was she kept for these six weeks?" The lawyer asks them to confirm this to provide this information as evidence in court. Meanwhile, the woman's detention is extended after each court hearing.
"Until recently, Yanina was in a cell in Lefortovo alone. Then a 60-year-old woman from Zaporizhzhia region was moved in with her."
Yanina has two daughters, 14-year-old Vika and 6-year-old Zlata. The older one lives with Kateryna, Yanina's sister, and the younger one lives with her father and Yanina's parents. And while the younger one doesn't understand anything yet, the older one doesn't sleep well, constantly cries, and misses her mom.
"Vika is already a teenager, so we decided not to hide anything from her and told her that the Russians are illegally holding her mother in prison. The younger one thinks her mom is in Melitopol and will return soon," the sister said.
Kateryna added that Yanina's husband and daughters had left occupied Melitopol before her detention. She persuaded him to leave because of rumors that after the so-called "referendum," all men would be taken to the frontlines to fight against Ukraine. Children would be forced to go to Russian schools or be forcibly taken away. Yanina also wanted to stay with them, but she returned home because of the animals (dogs, chickens, and a parrot) she planned to give to people.
Mariupol volunteer Anna Vorosheva was kept in four prisons, including the infamous Olenivka
The Russian occupying forces detained volunteer Anna Vorosheva at the Melekino checkpoint in the Donetsk region when she returned from Mariupol after a humanitarian mission. From there, she was taken first to the Mangush "police" department and then to the Dokuchaevsk police station in the Donetsk region.
There was no food or water in the cell where the woman was being held. When she asked about water, the prison guard said, "We have nothing for you because you do not exist. You are going further to Marlboro country." According to Anna, this is what the Russian occupying forces call a non-existent country where stolen and lost material values disappear. But in her case, the guard referred to people who might go missing.
"The guards and administration of the facility were young men aged 25 to 35. They were not violent, but they were afraid to take responsibility. They saw their work as a springboard for further career advancement. They were making money," says the volunteer.
She recalls an incident in Mangush when she was ordered to be a 'witness' when the Russian occupying forces registered looted gold, silver, and jewelry. At night, the woman was brought from her cell to a room with black plastic bags filled with silver and gold (chains, rings, and earrings) and more expensive jewelry on the tables. Anna assumes the jewelry had been stolen from jewelry stores because it was all in boxes covered with satin or velvet.
After the Dokuchaevsky police department, Anna was transferred to the Donetsk temporary detention center. Throughout the transfer, the guards took some things from her: socks, a handkerchief, tampons, pads, toothpaste, shampoo, and soap. They put all this in a storage room, never returning anything. Only later did Anna realize how important these things were for her survival. She was forced to take off her clothes upon arrival at the detention center. The guards told her to sit down several times to ensure she was not hiding anything.
"The women guards took out all their anger on us by grabbing, cursing, intimidating, cutting our clothes, and humiliating us. They led us through barking dogs, and their saliva fell on us. It was a horrible sight. The old team worked in the temporary detention center before 2014. They were recognized by the detainees by local police officers who knew them well," says Anna Vorosheva.
When Anna entered her cell, she saw a toilet, a washbasin, and beds. She could finally get warm and drink water, at least from the tap. It was the only clean place she had ever been to while moving from one prison to another. However, all the necessary things were on a shelf under the "feeder." To take them, she had to call the guard who arranged it. The woman also noticed that, compared to previous prisons, the guards were armed and had dogs.
"Due to the cold weather and the terrible conditions of detention, many people fell ill. Almost everyone was coughing, but no medical care was provided. We were held there for two nights," says Anna.
According to the documents the occupiers gave them, Anna was detained for an administrative offense. Therefore, she believed she would be held for 30 days and then released. As it turned out later, officials of 'DPR' [so-called Donetsk People's Republic, part of the Donetsk region occupied by Russia since 2014] issued the same forms to all civilians. That is, a person existed only on paper and was not registered in any electronic database. Without proper records, people were easily lost among thousands of detainees.
The volunteer was interrogated at the 'Donetsk Department for Combating Organized Crime.' She was lucky to have an investigator who advised her not to leave the corridor while they were waiting for others. Whenever she was asked to move to another room, Anna had to answer that she was waiting for the investigator.
"She [the investigator] warned me that I could be taken to the basement, where there was a real hell. So it was better not to go there. She gave me a water bottle and took me to the toilet, where I quickly washed myself."
Before being sent to another prison, Anna and the other women were brought for a fluoroscopy in a clinic that looked more like an abandoned building. People passing through the corridors spat on them.
The volunteer was taken from Donetsk to Olenivka. During the trip, the guards informed her that the colony management could extend her detention to 90 days. They also said that residents of Dnipropetrovs'k, Zaporizhzhia, Khmelnytskyi, and Lviv regions would not be released until the territory became Russian.
"In Donetsk, there was an electronic database with information about every Ukrainian. I also noticed that Russians ran all the prisons, but in Donetsk, the locals pretended to be on equal terms with them," says Anna.
Before being placed in the Olenivka colony No. 120 barracks, Anna and other women were forced to strip to the waist. Some were taken away bras, tops, pills, and pads.
Then, Anna was brought to an old house that smelled like a sewer. The small cell had a dirty hole instead of a toilet and two 'beds' welded from metal and covered with boards of different lengths. Since the entire floor was covered with small crumbs, the women took turns sleeping on the table or sitting. Of course, there was no water, but it was brought by prisoners who cleaned their barracks.
In the corridor that separated the left and right wings of the building, there were puddles of sewage. Dirty blankets hung on all the grates between the aisles, which were supposed to protect the unheated room from wind. After seeing what she saw, Anna thought one could die of dysentery or other infections.
"We thought that we would not be able to withstand such terrible conditions. It was impossible. It was freezing in the cell due to constant drafts. All the women got bronchitis, and some became ill because of their age or other chronic diseases. There were already 120 of us at that time."
The colony was divided into a disciplinary isolation facility where women were kept and barracks where the military lived. The guards comprised ordinary employees, 'DPR' soldiers (who wore full ammunition), and Russians (military and FSS officers). The investigators were from both the 'DPR' and Russia. Anna noticed that when the Russians appeared, the locals changed into Russian uniforms, changed their chevrons, and raised the tricolor [Russian flag]. That is, the Russians were in charge of everything in the prison.
One day, the volunteer was summoned to the deputy head of the colony to sign a document extending her detention. Despite her month-long stay in prison, the document stated that she had recently been detained in Volnovakha.
"I told him I had already been taken to all the jails. "Why are you resetting everything? To keep holding civilians?" I started to tell him that we ate half-cooked porridge, which was mixed with a dirty spoon. Women don't have sanitary pads, toilet paper, or rags to use instead. That we are not taken to the shower even once a week," Anna recalls.
The official responded, "We eat the same food as you and live in the same conditions. Why are you so critical? We are trying." Regarding the shower, one of the young guards replied, "We don't have showers. Take some water in your palms and wash yourself."
When Anna left the office, she was accompanied by a Russian who ordered the 'DPR' member to take her to the shower. That's how the volunteer and the other girls started going to the shower every week.
On May 15 last year, the women from the Azov battalion [a part of the Armed Forces of Ukraine that defended Mariupol] were brought to the colony. At first, they were allowed to keep their belongings in their cells, but then the guards took everything to the storage room. The colony was proud of the fact that they kept a lot of Azov members. They also included military and National Guard service members with the same code as the Azovs (3057).
Released women told Anna's relatives that she was being held in Olenivka. After that, the volunteer began to receive parcels, which she shared with others. Members of 'Azov' asked the military to bring other women personal care products.
"Everyone who is being released from Olenivka is telling horrible things. They are being chased naked with bags on their heads to the showers. Guards use violence, beat them, and force them to stand on their feet for days. There are 30-40 people in cells, and only six can sit. And people stay in such conditions for six months in a row."
Anna calls on the Ukrainian authorities to help civilians released from captivity. They need rehabilitation because of problems with their legs, teeth (prisoners' teeth fell out, and their jaws were broken), eyes, genitals, and limbs. The terrible conditions in Russian prisons significantly impact a person's physical and psychological state, so people cannot return to a full life after captivity for a long time.