Savchenko arrives in Ukraine: 'I want to apologize to all mothers whose children have not come back'
A+
A-
Щоб отримувати корисні матеріали, підпишіться на розсилку
Підписатися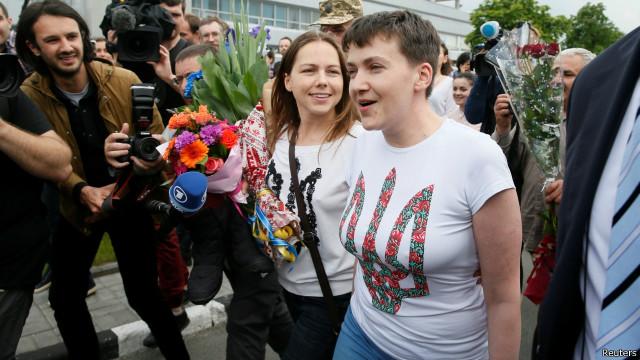 Ukrainian MP and PACE delegate Nadiya Savchenko has briefly communicated with the journalists, who were waiting for her at the Boryspil airport.
In her emotional speech, Savchenko thanked everyone who supported her.
"I want to apologize for my being alive. I want to apologize to those mothers whose children are in captivity now. I want to apologize to all mothers whose children have not returned from ATO, and for my being alive. Yes, I do not bring back the fallen, but I am ready to lay down my life for Ukraine. "
"The heroes of Ukraine should not die as it is very profitable when the heroes are dead," she added.
Delivering a speech at the Ukrainian Presidential Administration, Savchenko offered her best wishes to the Russians.
"I would like to say there is nothing to be afraid of. You should get up off your knees. I understand that this is not a country where it is easy to get up off knees but if they want to live in harmony, like we do, they need to get up off knees, and we must prevent them from coming here," Savchenko said.
She promised that she would work so that every captive who is still alive could return and so that the smallest possible number of people would be killed.
"Ukrainians have the right to be Ukrainians, to live with dignity in their own land," she concluded.
It was reported during a meeting with relatives of Russian journalists killed in eastern Ukraine that Russian President Vladimir Putin had pardoned Ukrainian MP Nadiya Savchenko, the press service of the Kremlin reports.
Putin reasoned his decision to pardon Nadiya Savchenko with "a humane gesture."
May 24, media reported that Nadiya Savchenko forbade her lawyers to file a petition for pardon and recognize her guilt.
In turn, President of Ukraine Petro Poroshenko pardoned Russian intelligence officers Alexander Alexandrov and Yevgeniy Yerofeyev, whom the Holosiyivsky District Court in Kyiv found guilty of waging aggressive war, assisting terrorist organizations and committing terrorist act and sentenced to 14 years in prison.
As reported, the militants of the illegal armed group of Luhansk region abducted Ukrainian pilot Nadiya Savchenko in June 2014 and delivered her to Russia by force, where the court sentenced her to 22 years in prison and also fined for crossing the Russian border. The judges found her guilty of killing two Russian journalists during the fighting in Donbas. She rejects the accusations.